NEWS
OK! EXCLUSIVE: Robert Pattinson's Sexiest Role Ever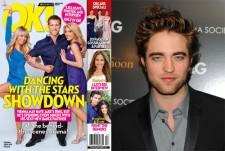 If Twilight fans thought Robert Pattinson's make-out scene with Kristen Stewart in New Moon was steamy, just wait till they see his next project, Bel Ami.
OK! NEWS VIDEO: ROBERT PATTINSON DIGS DEEP IN REMEMBER ME
Rob plays a Parisian journalist names Georges Duroy, and according to a source, the films opens with him having sex with a prostitute named Rachel.
And Rob is in more than half a dozen racy scenes with four beautiful women, including Christina Ricci, Uma Thurman and Kristin Scott Thomas.
Article continues below advertisement
OK! NEWS: TWILIGHT CAST NOT OVER THE MOON ON 3-D FILMS
Georges is a ladies' man who goes from living a life of poverty to becoming one of the city's most prominent men after marrying a high-society woman and manipulating a series of wealthy mistresses.
His world turns chaotic, filled with adultery and business scandals.
OK! GALLERY: TWILIGHT GETS AVATAR-IZED
In an interview with MTV, Rob said that 1890s Paris "was like the 1980s. Sex was a kind of weapon and a tool." As for Georges, Rob told Variety, he's a "totally amoral character."
The source also reveals that the script calls for "fast and efficient" sex.
Although Rob told reporters that all the loveless affection made some of the story "cold and horrible," it must have been a lot of fun to film.