NEWS
VIDEO: Robert Pattinson Digs Deep in 'Remember Me'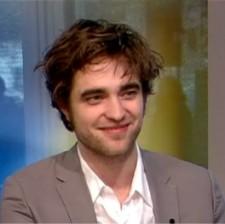 By now you've probably read a plot summary of Robert Pattinson's new film Remember Me, in theaters this Friday, but Rob gave his own description of the film when he chatted with CBS Early Show that may change your mind if you're still on the fence about seeing it. "It's so different. It's difficult to categorize," but he does anyways!
OK! NEWS: TWILIGHT CAST NOT OVER THE MOON ON 3-D FILMS
Rob not only stars in Remember Me, but also executive produced the film, which was filmed in only two months in between Twilight films.
Article continues below advertisement
He read several scripts of Remember Me and decided to make it after it seemed like it "was never going to get made," he told CBS Early Show.
OK! GALLERY: R-PATTZ'S BOTHERED/BEWILDERED FACE AS EMILIE SMILES AWAY
He best description of the film is by comparing it to Robert Redford's classic Ordinary People.
"It feels like kind of that, I don't know, late '70s kind of romantic," he said. "Like romantic dramas were a little bit deeper than they are now. There are no heroes, there are no villains. Everyone in it is a good person. It's just sort of a good family trying to deal with tough times."
"I was so impressed,"co-anchor Maggie Rodriguez said of Rob's role. "I was so struck by how deep and how emotional and how conflicted your role was."
OK! GALLERY: K-STEW STOPS BY R-PATTZ'S REMEMBER ME PREMIERE IN NYC
Check out the video of Rob's interview where he also talks about his biggest tabloid scandal — being secretively pregnant — and how playing the love interest of three beautiful actresses in Bel Ami is horrible — yea, right!
See Rob in theaters this Friday, March 12 in Remember Me!