NEWS
OK! Interview: Alicia Coppola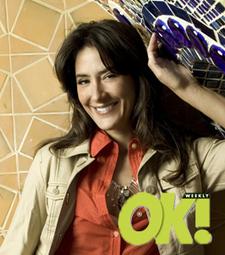 Starring on the post-apocalyptic drama Jericho means no chance to place dress-up for Alicia Coppola (no relation to Francis Ford Coppola), so OK! came to the rescue! The 39-year-old brunette modeled some chic earthy wear and took time out to chat about her shoe obsession, keeping fit and playing dress-up with her daughter, 5-year-old Mila.
How many bags and pairs of shoes do you have?
It's disgusting! In our closet, my husband Anthony Michael Jones has — and I'm not kidding — this much use arms to show a space a foot wide. The rest is me!
Article continues below advertisement
Do you play dress-up with your daughter?
We play dress-up all the time. We do hairdos and I let her put on lip gloss. I've always loved clothes, especially handbags and shoes. I'd rather save my money on clothing and wear crap, but have the handbags and shoes. I used to buy a Ferragamo or Louis Vuitton bag every job that I got. Now I have a child and we pay for private school, so I've had to scale back!
Did being a mom surprise you?
Well, this baby comes out of you and there's no handbook. They hand you this child and say, "Don't kill it. Feed it, clothe it and shelter it." I never knew what that kind of love was. I remember looking at my daughter for the first time and wondering if that's the way my father looked at me. I could cry, because she's everything to me. I feel so blessed to be taught so much by her.
Article continues below advertisement
How do you stay in shape?
I do Pilates twice a week, I hike and I go to the gym. My days of being that hardcore-workout person are over. Don't get me wrong, I still want to be the hot mom!
Ever tried a fad diet?
I tried going carb-free for five days, but I became a nasty bitch because I was hungry. It's all about being active and taking care of yourself.
You're going to be 40 in April — how do you feel about that?
As my daughter calls it, "your stinkin' 40th." There's one part of me that's reluctant, and then there's another part of me that can't wait to embrace it.
For more on Alicia, check out her and pick up the latest issue of OK!, on newsstands now!