NEWS
OK! Interview: 'American Idol' Castoff Ashthon Jones!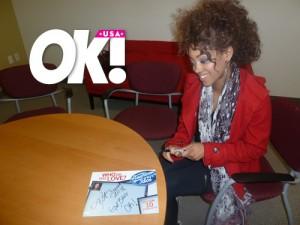 American Idol contestant Ashthon Jones almost didn't make it into the Top 13. After not getting voted in from the Top 24, this 25-year-old from Nashville was offered a Wildcard spot from the judges and snagged a spot in the Top 13. But unfortunately after singing Diana Ross' "When You Tell Me That You Love Me," Ashthon did not get enough votes to sail into the Top 12. OK! sat down with Ashthon to talk about living in the huge Idol mansion, working with Rodney Jerkins and if she would have liked to have been judged by Simon Cowell.
Article continues below advertisement
Did you think you were getting voted off?
At some point. You want to win, but some of the others were a little more popular because they were shown in the beginning. I didn't think I was going to make the Top 13. So I am happy to be leaving, accomplishing something like that.
OK! NEWS: COULD AMERICAN IDOL WINNER BE DETERMINED BY NUMBER OF TWITTER FOLLOWERS?
What did you think when you were picked for Wildcard?
It was fine with me! I am just glad that they saw something in me and they were giving me a second chance. They really liked me. That means more to me than some of the people who didn't vote for me. You have some people in the world who are just haters and they hated on the others, too. I was more focused on them seeing something in me. It was great because they have done a lot in their careers. This is such a great season, everyone is good.
Article continues below advertisement
Do you wish you had sung a different song?
At first I was like, "Man, I should have done another one." But now that I look back at it, everything happens for a reason. But because I did that song, I got to work with Rodney Jerkins and Jimmy Iovine. They literally turned that song into a current R&B song. It's just amazing.
What was it like working with them?
It's great! It makes you feel like you're in the big time. Rodney Jerkins has done Michael Jackson and Mariah Carey. The biggest artists in the world.
OK! NEWS: JENNIFER LOPEZ & AEROSMITH TO PERFORM BEFORE AMERICAN IDOL FINALE SHOW?
Did you have input on the arrangements of the songs?
Yes. If you have great ideas, they want to hear it and they will put it in there. For the most part, I wanted to hear everything they had to say. They know best. It's going to teach me something so when I do my album, I can go back and be like, "What did they say?"
So an album is next for you?
Article continues below advertisement
What was the hardest part of Hollywood Week?
It was crazy. We had our group and it was cool and then they had a twist. It had to be somebody from Day 1 and Day 2. We were all from Day 1. Then we found Ashley Sullivan. She was great, funny, wild and crazy. Laughs I taught the song to everybody because they didn't really know the words. And then Ashley threw a little breakdown. She wanted to quit the whole show. It was like 1 o'clock in the morning. We were very happy when she came back. We prayed and then the next day, we rocked it out.
Article continues below advertisement
Who did you think would have made the top 24?
The girl in my group, Jacqueline Elliot, she was cut really soon during The Beatles round. It didn't make sense. Her personality, style and her voice were amazing. And Colton Dixon! I was like, "Really?" I really liked him.
Who did you think would have made the Top 13?
Clint Gamboa! He was one of my favorites. I really liked him. He took the stage and he took it over. I think Jovany Barreto was one of the ones that I thought was going to make it through. He was popular. Tim Halperin! He was the one who everyone was talking about. We still talk about Tim. We miss him. He was fun and funny. You know how Casey is funny? He was just like that.
OK! NEWS: CASEY ABRAMS TWEETS SUPPORT FROM HOSPITAL TO TSUNAMI VICTIMS IN JAPAN
What was it like living in the big mansion?
That was amazing. It was super huge. I wouldn't even want my house that big. It was super massive. It was on top of a Beverly Hills mansion. It was sick.
Who is the closest?
The girls are all in one room so we had slumber parties.
Who is the quietest? Who is the loudest?
Thia Megia is quiet and very sweet. Jacob Lusk, Naima Adedapo, Lauren Alaina and me were loud all the time.
Article continues below advertisement
What do you think of having Twitter during the show?
It's amazing. You can do whatever you want. You read everything. I try to reply to everybody, they like that. They look at us like stars, but I want to let them know that I am a real person. I am from Nashville, Tennesee. I was once like you trying to tweet to stars and they will never reply. I am your homegirl, I will tweet back. There are a lot of them I talk to, we are close and we pray together on Twitter.
OK! VIDEO: WATCH ASHTHON JONES' JOURNEY ON AMERICAN IDOL
Is it hard to see mean things?
I block the haters out. I keep it all positive. If I need to give anybody advice on the show, don't look at the blogs. I did that in the beginning, but it can discourage you. And if you have to perform, you won't perform your best. As soon as I see someone negative, I just block them.
Have you watched previous seasons?
Article continues below advertisement
I didn't watch last year. But my favorite year, I love Fantasia. We've both been through a lot. She's one of the ones that I liked. Jennifer Hudson was great. Kelly Clarkson, my goodness. Of course, Carrie Underwood. Even Ruben Studdard, I got to see him once. He came to Nashville. Corey Clark opened the show and I used to sing backup for him. Ruben was such a teddy bear.
How are the new judges? Were you bummed not to be judged by Simon?
Oh no. I wouldn't have minded having Simon. I thought Simon was himself. Most of the time, he kept it real. He said exactly what people don't want to say. He might have said some things that hurt people's feelings but I didn't hate him for that. I liked Simon. These judges? They are the best. They are giving you great criticism for your career. Jennifer Lopez told me on elimination night, "When you get your first album, make sure the songs you have on there are hit songs. Make sure they are songs that people are going to remember forever." They are just real people. Steven Tyler is awesome. He is so humble. He's really sweet and coming from him and his career, it's amazing.
Tune in tonight at 8 ET on FOX to see the remaining 12 contestants perform songs from the year each was born!