NEWS
OK! Loves: Amy Schumer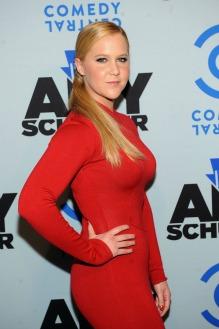 Amy Schumer is like the Sex and the City of comedy because we're all going to be talking about her show at brunch, and I can't wait.
Yes she is a comedian and yes she is a female. It's hard to get around that and I'm sure it's something she has to deal with everyday, but I'm so glad she does it!
OK! News: Wanna Hangout with Wendy Williams?
Her new TV show Inside Amy Schumer premieres tomorrow night on Comedy Central at 10:30 p.m. ET and I could not be more excited.
Article continues below advertisement
There's jokes, sketches, interviews and more on this show and you know what? Yeah, I do find them funnier because she is a woman. She's coming from a perspective that will make any lady LOL while hiding their face in shame because yep—we've all been there. Some of you too, boys!
If you can't wait until Tuesday, you can view the first episode now on the Comedy Central website.
This is my favorite sketch from the episode because it's so truthful it could be a documentary.
Get More: Comedy Central,Funny Videos,Funny TV Shows
She's tackling dating, friendships, and even the Internet in a way that will make you say "Girl, I've been there" in between laugh-snorts. Amy's got the lady balls to take all the dirty things we're thinking and put them on TV.
The best part is, she's taking the question "Are women funny?", putting it in a pretty box with a bow on top and then smashing it with a hammer. Hell yeah we're funny! Especially Amy.
OK! News: The best old-school Jessica Simpson songs
She's one of the most daring, hilarious, quick, smart, silly and yes, gorgeous comedians out there today. Not only can she hang with the guys, but she can out-joke them as well, all while wearing a cute dress! What more could you possibly want?
Amy, call me when you want to do brunch.
Are you excited to watch Inside Amy Schumer? Tell us in the comments below or on Twitter @OKMagazine.