NEWS
OK! Loves: Justin Timberlake Concludes SXSW With a Rock Performance of 'Cry Me a River'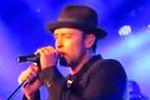 South By Southwest in Austin, Texas ended yesterday after days of introducing lucky attendees to new music, movies etc, but let's be real — the best moment of the entire festival was Justin Timberlake closing out the show. His performance was probably the worst kept secret of late, with news spilling on Twitter days before JT took the Austin stage, but you guys, it was the best spoiled surprise ever.
Article continues below advertisement
OK! Loves: Glee Sings NSYNC and BSB!
Look, it's not like I was in the audience myself (I wish), but from what I've been hearing about the show via the internet, it was pretty much epic. According to The Hollywood Reporter, JT performed a one-hour set singing a bevy of his hits from "My Love" to "Senorita" and of course his new single, "Suit & Tie." But let me take a second to discuss the best performance of all — this rocker-ish version of "Cry Me a River." Excuse me while I faint at my desk.
Obviously the best Justin Timberlake solo songs are the ones from his 2006 album, Justified, so clearly I was a giddy little school girl watching (via Youtube) JT perform all those classics. It almost made me as emotional as it did when I watched the Glee cast sing his NSYNC tune "Bye Bye Bye" last week. Key word being almost.
Anyway, that was hands down the best moment of SXSW 2013 (you can check out the rest of the celeb spottings from the festival HERE), and now I'm just like, beyond excited for The 20/20 Experience to come out tomorrow. Need it now.
Watch: 21 Songs Justin Timberlake is Featured On
What was your favorite SXSW moment? Do you miss the old JT (and the old JT hair?) or do you prefer his new sound better? Tell me everything by tweeting us @OKMagazine!