NEWS
OK! Movie Mania: 7 Best Moments from 'Monsters, Inc.'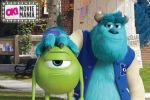 As we gear up for tomorrow's release of Monsters University, it's only fair that we take the time to appreciate the movie that started it all—Monsters, Inc. After watching Mike, Sulley and Boo take on Monstropolis way back in 2001, it was easy to fall in love with the characters and quickly develop favorite scenes, quotes and moments from the film. From Boo's adorable blabber to Sulley and Mike's banter, these Monsters Inc. moments never fail to make us smile, and, ok, sometimes cry just a little bit. But they're the kind of tears that come after seeing something way too cute to handle, ya know? So it's all good. To see if your favorite made the list, keep reading...
Article continues below advertisement
Photos: Pop Stars Who Have Been in Animated Movies
1. Mike and Sulley perform. We're still asking ourselves how "Put That Thing Back Where It Came From Or So Help Me" didn't get nominated for a Tony...
2. Sulley thinks Boo went down the garbage chute. First of all, Boo's laugh is the cutest thing in the world. Secondly, how sweet is it when Sulley finds out Boo wasn't turned into garbage after all?
3."I'm watching you, Wazowski." Classic Roz.
4. Mike helps Sulley get in shape. If we had a trainer like Mike, maybe we'd actually do our morning workouts!
5. Mikey and Sulley see their commercial for the first time. We like that positivity, Mike!
7. Code 2319. This is potentially the most dramatic-yet-hilarious scene of the entire movie. We love!