NEWS
OK! Old School: That Time Michael Jackson Accepted a Cake Topper Instead of an Award at the MTV VMAs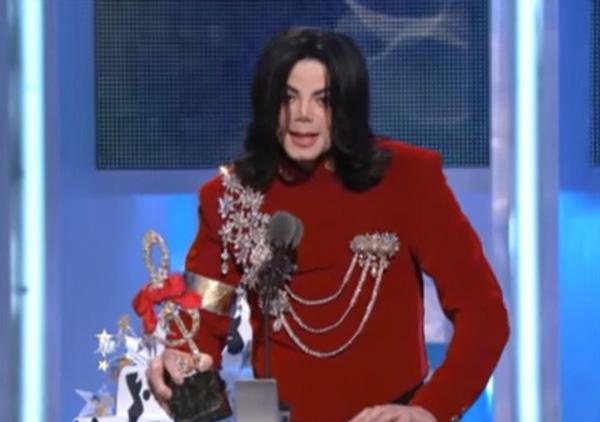 One of the most exciting things about this year's VMAs is that MTV is awarding Beyonce, Queen of All Things, the Video Vanguard Award. Many people have accepted this award before her, but this year it's Beyonce, Queen of All Things, and she's been maybe, possibly, definitely going through some hard times these past few months.
OK! News: These Are The Best MTV VMA Performances Ever
So as we gear up for what she will wear, what she will say, and what she will perform, we're looking back at one of the greatest winners of.. a similar award, Michael Jackson.
Article continues below advertisement
Back in 2002, when Britney Spears was into wearing sexy Halloween costumes on the red carpet, Michael Jackson was to be honored at that year's VMAs because his birthday coincidentally fell on the air date. Britney Spears, clad in a sexy SWAT costume, was to present a cake to him onstage. But what happened next is for the history books. WATCH:
youtube=https://www.youtube.com/watch?v=uiV0Y6XjgnI&w=560&h=315
So did you catch that? What happened was awkward. What happened was historic. Some clever writers had Britney introduced MJ as her Artist of the Millennium, which Jackson took to understand as the Artist of the Millennium, and he accepted it accordingly.
WATCH: Beyonce Seduces Jay Z in New "On The Run" HBO Doc Promo
So who do we blame here? Was it MTV for not communicating it properly to MJ's team? Was it his team's fault for not communicating it properly to him? Was it the pastry chef's fault for creating a cake-topper that looked too much like an actual award? We don't know, and we kind of like it that way.
Do you remember watching this in 2002? Were you as uncomfortable as we were? Share in the comments or tweet us @OKMagazine.