NEWS
OK! or OMG?! Read Our Review of 'This Is The End'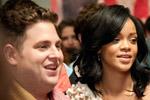 Normally we write our OK! or OMG?! movie reviews on Fridays, so sorry if you're seeing this and are all confused. But This Is The End comes out today, so it is our duty that we write our review now in case you plan on seeing the movie sometime tonight or tomorrow. Read on for 5 things we learned about the film that you won't see in the trailers and find out if the comedy is worth your time (and your buckaroos) this week. Ready?
Article continues below advertisement
Photos: All The Celebs at the Premiere of This Is The End
First of all, the cast. We gotta talk about the cast. Jonah Hill, James Franco, Seth Rogen, Jay Baruchel, Chris Robinson and Danny McBride are the main guys in the movie (who all get stuck in James Franco's house together when they survive the end of the world), but you'll see cameos from tons of other stars like Michael Cera, McLovin, Jason Segel, Mindy Kaling and Rihanna. Rihanna! Her lines, though few, are basically epic.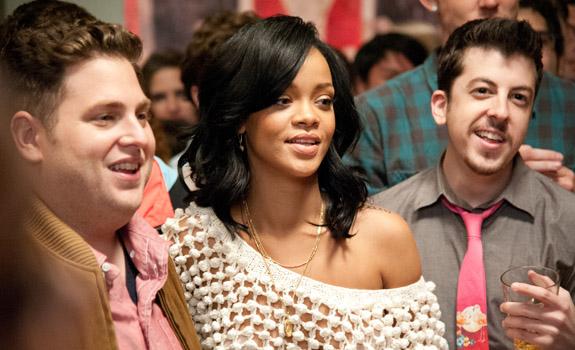 The best part of this movie is probably the fact that the actors are playing themselves. Each of their characters are exaggerated versions of themselves (well, except for Jonah Hill, who we're pretty sure is playing the complete opposite of his real life persona) so that's someting cool and different. Think you can guess which guy plays the douchebag who eats all the food and drinks all the water?
Article continues below advertisement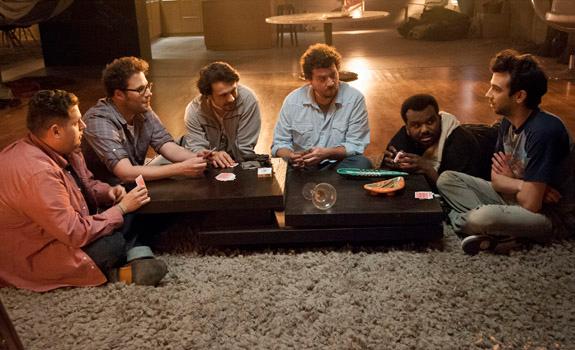 And because all the dudes are playing themselves (Emma Watson plays Emma Watson too, not Hermione for a change), there's a few funny references to their previous films. Mentions that stand out are when James and Seth film a bootleg version of Pineapple Express 2, the Freaks & Geeks poster that's hanging out in James Franco's basement, and Jonah's many mentions of his Oscar nomination for Moneyball. It's funny stuff.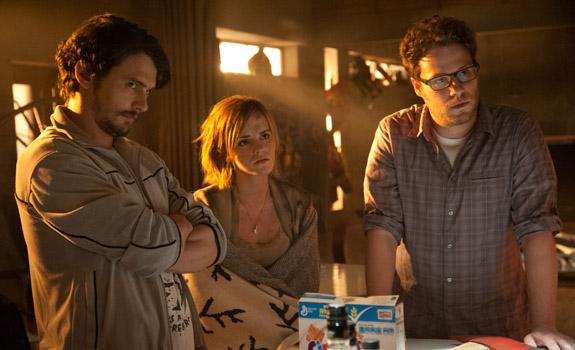 But now, let's talk about the premise. Like we said and like you could probably tell from the trailers, the entire film is about how these 6 dudes try to survive in one house while civilization is basically ending right outside the doors of James Franco's bachelor pad. It's mostly funny, but at one point in the film, maybe an hour or so in, it just gets ridiculous. The plot is ridiculous to start with, yes, but you'll know the moment we're talking about when you see it happening. Let's just say it involves Jonah Hill like you've never seen him before.
Article continues below advertisement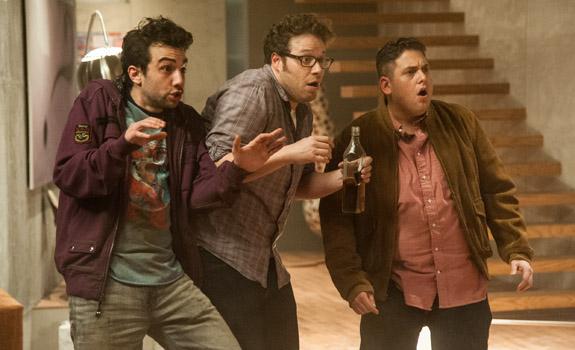 But despite that terrible 40 minutes or so, the film holds up overall. With a cast like this, it's hard not to be funny and entertaining, so the film is defintely both of those things. Also, look out for an AMAZINGLY epic scene at the very end of the film that you'll love if you grew up in the 90's. That's all we're saying.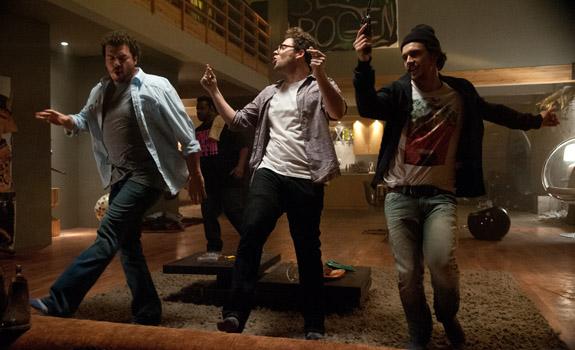 OK! or OMG?!: It's OMG in the sense that it's like, OMG hilarious and sometimes OMG, this is so dumb. But we think we'll give the film an in-between OK and OMG because even though we appreciated the humor and the pop culture references, you might feel dumber while watching it.