NEWS
OK! TV Awards: Vote for the Best Musical Moment on TV This Year!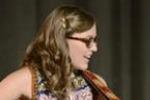 In an age when everyone spends their work day watching viral videos that their friends emailed over (not just me, right?!), working a fun musical moment into a television show is especially important. That way, viewers will immediately want to watch it again—and share it!—with friends the next day.
OK! News: Vote for the saddest TV break-up of 2013!
There were lots of awesome music moments on TV this year, but check these out and vote on your favorites! And of course, we grant permission to sing along.
Article continues below advertisement
There comes a moment when you're first watching a new TV show and you think, "Oh, snap. They got me. I'm obsessed." For me, it was the very end of the Nashville pilot, when soon-to-be-shagging couple Scarlett and Gunnar sang this smoking-hot song. Whew.
Hannah and Elijah sing along to Icona Pop on Girls
The Icona Pop song "I Don't Care" has officially taken over the charts, but who do we have to thank? Just the drugged-up and semi-naked stars of Girls, who introduced the song in the scene above. Who can't sing along with them by now?
Blaine sings "Teenage Dream" on Glee
Darren Criss' initial version of this song was a sexy, happy introduction to his character in the second season (not to mention a hugely best-selling single at the time). This rendition showed how much the character's relationship with his love, Kurt, had changed. Darren's voice cracks and his eyes are filled with tears throughout, and oh man. Get the kid an Emmy, okay?
Article continues below advertisement
Rayna's daughters sing "Hey Ho" on Nashville.
This song brought newcomers the Lumineers lots of fame and fortune this year, but no offense, guys—you were just blown out of the water by two grade-schoolers. The daughters on Nashville, played by sisters Lennon and Maisy Stella, are pretty much the most talented musicians on the show!
Mariah Carey sings "All I Want for Christmas" on Late Night with Jimmy Fallon.
Jimmy Fallon has created tons of magical musical moments on his show (I see you, Justin Timberlake), but given its timing in the holiday season and the presence of the Queen Diva Goddess herself, Mariah Carey, this is our favorite. And with nearly 10 million views on YouTube, we weren't the only ones!
Which was your favorite music moment of the year? Which did you pick here? Are you a fan of shows with a lot of music on them? Tell us in the comments below or tweet us @OKMagazine.