NEWS
OK!'s 'Ask Heather' Advice Column: The 'RHOC' Star Answers Your Burning Q's Every Week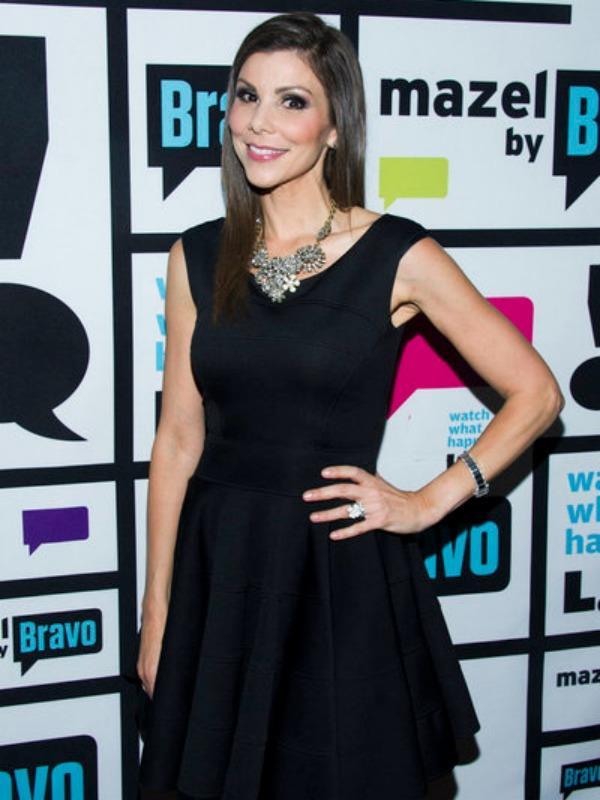 Real Housewives of Orange County star, mother, wife, and entrepreneur Heather Dubrow is dishing her best advice each week in our OK! column: Ask Heather!
In honor of the housewives' trip to Mexico for Tamra Barney's bachelorette party, Heather is answering all your travel questions! Get ready to get packin'. She shared her four essential tips, then answered your Twitter questions!
1. "Most toiletries come in travel size now. If you can't find them, even your very fine creams, go to the counter at the department store, and they will give you samples of your product."
Article continues below advertisement
2. "Always have a pack of antibacterial wipes with you. When you get on an airplane, you must wipe down the arm rests, the tray tables, the television screen, anything, because they don't have time to clean the planes between each flight like you'd like them to."
3. "Fold your clothes with tissue paper. It keeps it from being creased. But you must use white tissue paper—you cannot use a color, because if there's any moisture it can bleed. And here's a tip for the ladies. Some may take this as ridiculous, but I pack for my husband. If I didn't, he'd end up with one sock and two shirts. There would be nothing."
4. "Do not walk barefoot in the airport. It's not sanitary. It's disgusting. Always put a little pair of socks in your purse, then roll them inside out so you can put them back in your purse. It drives me insane to see people walking barefoot through public areas like that. You'll see in next week's show!"
OK! Exclusive: Read Heather's advice for your most pressing questions!
OK!: How do you find a good restaurant in a city you've never been to before?
Article continues below advertisement
Heather Dubrow: The best way to find a new restaurant in a city you've never been to is to ask for recommendations from friends you can trust. Social media is a really great way to get recommendations when you're traveling. If you don't know anyone who's been to the place you're going, always call the concierge of the hotel.
OK!: Where is the best place you've ever been on holiday?
HD: Alone with my husband, Paris for sure. It's so romantic, we got engaged there, and for our anniversary that's a very special place. With my kids, honestly? Anywhere. Just being with my family is great. We spend a lot of time in Cabo. When you have four kids and one is very young, the shorter the flight the better.
OK!: What is the best advice for flying with a two-year-old?
HD: Flying with a two-year-old. Fun! I make sure they have lots of things to spread out throughout the flight. I make sure I have things that take a long time to eat, like lollipops. We definitely bring electronics. Unfortunately my two-year-old is not into videos, which I guess is good and bad at the same time. I got this series of books that has an electronic pen, and when you tap pictures it talks. The best advice is to bring a lot, spread it out, and get them up and walking to get the energy out.
Article continues below advertisement
OK! Exclusive: Read all of Heather's best beauty secrets!
OK!: What are the essentials you have to have with you when you travel?
HD: I am in a time in my life when I like to check everything, and bring as little on the plane as possible. However, god forbid you lose you luggage, this is what I make sure of. I travel in layers, so that if it's warm or cold you can add or subtract. I always bring a cashmere scarf, because it's always cold on the plane. You don't want to use someone else's yucky blanket. I always have a little kit with a fresh pair of contact lenses, a little bit of makeup to refresh myself, and a wisp—is that what you call them? The little toothbrushes.
OK!: What is your strategy for packing? Do you pack as many outfits are there are days?
HD: I lay out my outfits for every day that I'm there and all the events I have, and I take pictures of everything with the accessories. Sometimes I'll put in one extra, just-in-case outfit. But I plan for every day, every event, and that's it. It's so good to be organized. Once you get there, it's easy.
OK!: Someone tweeted this one in: Any ideas for a fun, budget-friendly trip with a special-needs seven-year-old in a wheelchair?
Article continues below advertisement
HD: Look into the Disney vacations. They have a cruise line, they have a place in Hawaii, even the parks have hotels there and they're obviously very children friendly, and also very special-needs friendly. They do a great job with that.
Don't miss the newest episode of The Real Housewives of Orange County TONIGHT on Bravo at 8/7 C and tweet your q's to @OKMagazine with the hashtag #OKAskHeather and she could answer you in next week's column!