NEWS
Oksana Grigorieva Says Mel Gibson Waved a Gun at Her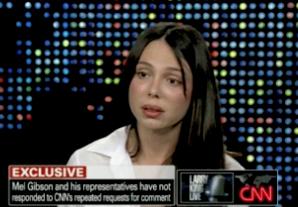 Oksana Grigorieva decided to speak out for herself on TV with Larry King on Wednesday night about the alleged fight that occurred between her and Mel Gibson back in January.
OK! GALLERY: OKSANA'S ATTORNEY JOURNEYS
On Larry King Live last night (via PopEater), Oksana didn't spare any details when recalling the fight.
On "Jan. 6 of this year the beating took place," Oksana explained. "Mel actually assaulted me while I was holding the baby in my arms ... I ran into my son's bedroom and told him, 'Mel's crazy.' "
Article continues below advertisement
She said she stood with her daughter, Lucia, behind her 12-year-old son's, Alexander, bed "like a mother protecting her cubs."
Then, when Mel came into the room, Oksansa said he struck her twice.
Larry asked Oksana if Mel was drunk at the time, but Oksana said he was not.
Gibson came into the room and struck her twice, she said. When Larry asked if Mel was drunk, Oksana said he was not.
"He hit me, and choked me in front of my son and brandished a gun at me," she said.
OK! NEWS: MEL GIBSON SAYS HE ONLY SLAPPED OKSANA GRIGORIEVA ONE TIME
So why did she stay with him?
"That was a mistake," she admitted. "I stayed a little bit too long."
"I gave him the last chance," Oksana added. "He asked me for the last chance. He begged. He cried. He cried on his knees. What am I supposed to do?"
Larry then asked Oksana why she taped the phone calls with Mel and she said, "I started taping it around 11 o'clock because I thought, 'I'm actually not going to live through the night. I'm actually not going to live through the night and I wanted my mother to be able to prove that if I'm dead that this is who did it."
Watch Oksana's interview below!