NEWS
Oprah Winfrey's Not Gay: "Not Even Kinda Lesbian"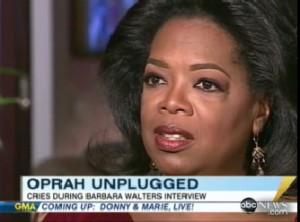 Article continues below advertisement
"She is... the mother I never had. She is... the sister everybody would want. She is the friend that everybody deserves," Oprah says about Gayle. "I don't know a better person. I don't know a better person."
Oprah starts to cry and Barbara asks why the question made her emotional.
"It's making me cry because I'm thinking about... how much... I probably have never told her that," she explained.
OK! NEWS: OPRAH LAUNCHES ANNUAL HOLIDAY GIVE-O-WAY ON OPRAH.COM/12 DAYS!
But when it comes to talking about the lesbian rumors surrounding her friendship with Gayle, Oprah is very straightforward.
"I have said we are not gay enough times. I'm not lesbian... I'm not even kinda lesbian," she explained. "And the reason why it irritates me is because it means that somebody must think I'm lying. That's number one. Number two, why would you want to hide it? That is not the way I run my life."
Watch a clip of Oprah's interview below!