NEWS
Paramedics Called at '127 Hours' Premiere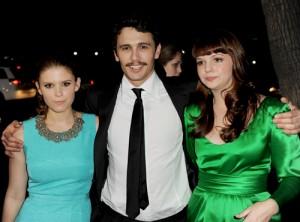 At the Wednesday premiere of 127 Hours in Beverly Hills, paramedics were called — and not because James Franco, Kate Mara and Amber Tamblyn all looked heart-stoppingly gorgeous. Unfortunately, a young woman suffered a seizure 45 minutes into the film screening held at the Samuel Goldwyn Theater. This isn't the first medical incident at the screening of the film, either.
Director Danny Boyle spoke after the screening finished, reassuring the audience that the woman was doing well and the incident "had nothing to do with the movie."
Article continues below advertisement
OK! GALLERY: JAMES FRANCO: STILL SEXY WITH QUIRKY MUSTACHE & KOOKY FACES
This fact was very important to clarify, since multiple audience members have fainted during screenings of the film which features a brutally accurate portrayal of James' character Aron amputating his own arm below the elbow — something the real life Aron Ralston actually had to do when he was trapped under a boulder for almost a week.