NEWS
The PhilmGuy Reviews: 'Hot Tub Time Machine'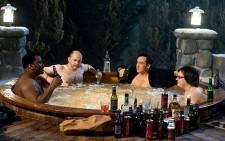 I'm not sure if hot tubs can serve as spacetime vortexes that transport you back 24 years, but movies sure can. Hot Tub Time Machine, the nonsensical-as-Sarah Palin-quotes comedy zaps you straight to the mid-1980s, when cinematic orgies of pure hyperactive insanity such as Weird Science, Back to the Future and Ferris Bueller's Day Off were not only possible but commonplace.
Successive decades of film have brought advancements in acting, sophistication and special effects, but what we've lost is randomness that the 80s did so well.
Article continues below advertisement
So along comes Hot Tub Time Machine, all hopped up on Pop Rocks and imported Russian Red Bull, bringing a joyful carousel of gross-out nonsense, bathroom gags and slapstick buffoonery. Some are calling it The Hangover of 2010, which isn't quite fair to The Hangover because Hot Tub Time Machine is so gleefully low-class it makes The Hangover appear stuck-up and proper by comparison.
The story follows middle-aged losers played by John Cusack, Craig Robinson and Rob Corddry, who along with the Cusack character's nephew (Clark Duke) head up to the ski resort where they spent their glory days living it up to the soundtrack of Wham and Talking Heads.
The place has become a dump, and the guys seek some consolation by relaxing in the hot tub. In an instant, without explanation, they are zapped back to 1986, when they get to relive life as their early-20s selves and right past wrongs – standing up to bullies, smoothing over relationships and rediscovering their former selves, who were pathetic with momentum rather than pathetic while inert.
Article continues below advertisement
THE PHILMGUY'S DVD REVIEW: THE TWILIGHT SAGA: NEW MOON; THE PRINCESS AND THE FROG
Duke's character, who was conceived that very weekend, has a Back to the Future-style flickering-in-and-out thing going on, signifying that one of the guys must impregnate the lad's mother before they return to the present, lest he never be born. And that's about as serious as the movie gets.
The rest of the movie is an unceasing swirl of sex jokes, mockeries of the handicapped, homophobic slurs and faces smeared with various bodily fluids. This type of thing could be a hapless failure without the right touch, but director Steve Pink (Accepted) has the timing of a Swiss watch, and his game actors hurl themselves into their roles with the enthusiasm of frat guys to a kegger.
THE PHILMGUY REVIEWS: OUR FAMILY WEDDING
There's a reassuring sweetness and inverted innocence that paces even the naughtiest of jokes, keeping you giggling without having to shift your eyes to make sure no one is judging you for losing it over such stupid jokes. Not to worry – they'll all probably be laughing just as hard.
Starring John Cusack, Clark Duke, Craig Robinson and Rob Corddry. Written by Josh Heald, Sean Anders and John Morris, based on a story by Heald. Directed by Steve Pink. Rated R. 100 minutes.
Phil Villarreal's humorous money-saving book, Secrets of a Stingy Scoundrel, is available on Amazon.