NEWS
The PhilmGuy's DVD Review: 'Daria'; 'Edge of Darkness'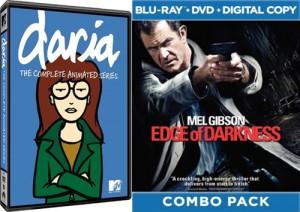 Daria: The Complete Series — The brilliantly satirical 1997-2001 MTV animated series, which spun off of Beavis and Butt-Head, follows a droll, intellectual girl through her so-called high school life. The series is filled with witty observations about teenage hell and painfully funny moments. The DVD is light on extras but the episodes more than justifies a purchase.
The Edge Blu-ray — David Mamet's crackling dialogue is the real star of this dark, sadistic 1997 thriller, set in the frozen Alaska wild. Alec Baldwin plays a narcissistic fashion photographer and Anthony Hopkins is his ruthless, wealthy father-in-law. Their egos and emotions clash as they struggle for survival. The film looks great but the extras leave much to be desired.
Article continues below advertisement
M Blu-ray — Another super Criterion Collection release of a resounding classic, this 1931 German expressionist masterpiece from Fritz Lang looks better than I've ever imagined. The story follows the relentless pursuit of a serial killer who murders children. The substantial extras are the same as those on the 2004 Criterion DVD release, which is fine because those are so extensive it's tough to imagine what else Criterion could have included.
THE PHILMGUY'S DVD REVIEW: DIRTY DANCING; SAVING PRIVATE RYAN
Mel Brooks Blu-rays — High Anxiety, History of the World Part I and Robin Hood: Men in Tights, all of which were included in last year's Mel Brooks Collection, get individual Blu-ray releases. Men in Tights has a commentary track but the other two are bare-bones affairs. Unless you happen to be an HD fetishist like me, you'll be fine with plain 'ol DVDs of Mel Brooks comedies, which aren't known for their visual splendor.
Article continues below advertisement
Paper Covers Rock — A superb performance from Jeannine Kaspar (Nip/Tuck) anchors this somber drama about a young mother who has lost contact with her child after she attempted suicide and is trying to get her life going again. Don't go in expecting much in the way of joy and redemption and you'll be fine. The DVD includes a couple little background featurettes.
Play the Game — Andy Griffith shows he's still got it, playing a crotchety old man in a retirement home who decides to plunge back into the dating pool with the help of his Lothario grandson (Paul Campbell), who tries to teach gramps his cynical modern rules of seduction while also falling helplessly in love with a woman he meets (the tragically underused Marla Sokoloff). This is one of the better romantic comedies I've seen in a long while. The DVD includes outtakes and deleted scenes.
Article continues below advertisement
The Karate Kid and The Karate Kid Part II Blu-ray — Both inspirational 1980s hallmarks are out on Blu-ray for the first time, separately for $25 each and together as a set for $40. These Ralph Macchio epics hold up excellently, and it was wise of the studio to ditch the forgettable Karate Kid movies — The Karate Kid Part III and The Next Karate Kid. The extras are bountiful, though pulled from past releases, with several featurettes and commentary from Macchio and the dearly departed Mr. Miyagi, Pat Morita.
THE PHILMGUY'S DVD REVIEW: DRAWN TOGETHER; THE LOVELY BONES
Edge of Darkness — Mel Gibson rebounds from his layoff to reprise his old habit of starring in mediocre action thrillers. Trying on a Boston accent that sounds a bit Australian, Gibson plays a homicide detective coping with the murder of his daughter by a home invader. His lone wolf investigation of the murder rips open a cover-up and puts his own life at risk. But the real victim is your suspension of disbelief, because the plotting grows more ludicrous by the scene and Gibson lacks his Lethal Weapon pep. The movie gets a lavish Blu-ray/DVD/digital copy treatment, as well as a slew of extras analyzing every nook and cranny of the film as though it were something substantial rather than a forgettable guy flick destined for TNT.
Phil Villarreal's humorous money-saving book, Secrets of a Stingy Scoundrel, is available on Amazon.