NEWS
The PhilmGuy's DVD Review: 'Bambi'; 'The Cable Guy'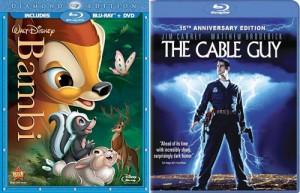 Bambi Diamond Edition Blu-ray – The 1942 classic trots onto Blu-ray, continuing Disney's excellent track record of creating stunning versions of its animated masterpieces in HD. The tear-jerker has lost none of its emotional impact and looks better than it ever has on home video. Extras include a DVD of the movie, image galleries, two never-released deleted scenes, as well as a song that didn't make the cut, as well as re-enactments of story meetings that led to the making of the movie.
Article continues below advertisement
Faster – With all the silly, kid-friendly Disney fare in which The Rock finds himself, it's nice to see him in a bona fide action flick for a change. He plays an ex-con who shoots his way through gangs of heavies to track down the man who killed his brother. Billy Bob Thornton is solid as a cop who is on the Rock's tail. Extras on the disc include looks at the cast as well as the film's many guns and cars.
THE PHILMGUY REVIEWS: DRIVE ANGRY 3D
Last Tango in Paris Blu-ray – Marlon Brando and the recently deceased Maria Schneider get it on in a torrid affair in this sexually explicit, often disturbing 1972 drama. Director Bernardo Bertolucci was always a master of expressive visuals, and his film looks spectacular. It's too bad the disc has no extras.
Rain Man Blu-ray – Tom Cruise and Dustin Hoffman are both at the top of their game in this sentimental 1988 film about estranged brothers – Hoffman as a savant with social communication issues – who take a road trip together. The movie is a timeless winner and packed with memorable lines and scenes. Deleted scenes, a retrospective documentary and three commentary track fill out the strong disc.
Article continues below advertisement
THE PHILMGUY'S DVD REVIEW: DUE DATE; WEEDS
Scooby-Doo: Curse of the Lake Monster – The powers that be wisely disposed of the high-cost star-studded cast of the two awful theatrical live-action Scooby-Doo movies for a cast of game nobodies who do just as good a job. The lone exception is the guy who plays Shaggy – he tries too hard to emulate the cartoon voice. There's nothing special about the story, which plays like a stretched-out animated episode, but the film is harmless fun for Scooby mega-fans. The Blu-ray includes a digital copy. Featurettes and a gag reel fill out the extras.
THE PHILMGUY'S DVD REVIEW: UNSTOPPABLE; YOU WILL MEET A TALL DARK STRANGER
The Cable Guy Blu-ray – The overlooked 1996 Jim Carrey comedy, in which he plays an obsessive technician who forces himself into the life of a client (Matthew Broderick), got a bad rap at the time for not being as funny as Carrey's other work. Compared to Carrey's lackadaisical current output, this one is a laugh riot. Carrey, producer Judd Apatow and director Ben Stiller provide an insightful new commentary track, and there's loads of deleted scenes and rehearsal footage.