NEWS
The PhilmGuy's DVD Review: 'Big Love', 'Machete'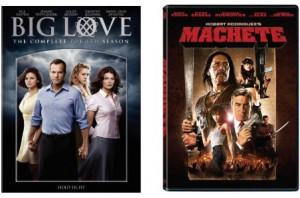 Backdraft: Anniversary Edition Blu-ray – The 1991 fireman drama, starring Kurt Russell, William Baldwin, Robert De Niro and Donald Sutherland, may not be anything special, but is amusing for its cheeseball 1990s action flick pizzazz. The film's many explosions and shots of grimy, strained performers overacting with gusto look great in HD, and the extras are respectable, including an intro from director Ron Howard and featurettes on the stunts, cast and writing.
Article continues below advertisement
OK! NEWS: THE PHILMGUY'S TOP 10 MOVIES OF 2010
Big Love: Season 4 – As HBO's seminal look at modern-day, suburban polygamy enters its final stretch on TV, this DVD set of the penultimate season, its finest yet. Bill Paxton stars as an ambitious, troubled patriarch who juggles relationships with his deteriorating family, including his wives (Jeanne Tripplehorn, Ginnifer Goodwin and Chloe Sevigny) and resentful older children. The family struggles to get a foothold in the Indian casino industry as they face legal and family difficulties. It's a shame the series has yet to see Blu-ray, especially since the extras on this DVD set – which include spot commentaries on episodes – leave much to be desired.
Catfish – As recent documentaries that focus on ill-fated online romance go, I'd prefer Talhotblond. But Catfish, an indie darling that's generated a cult following, more than holds its own. It's a well-told, rapidly paced story about a young filmmaker who falls in love with a painter/musician online, but begins to question the nature of his relationship as he draws inevitably closer to meeting her. The film does an excellent job of maintaining suspense as it unfolds. An interview with the filmmakers is included.
Article continues below advertisement
El Mariachi/Desperado Blu-ray – Writer/director Robert Rodriguez's early-career gems debut on Blu-ray as a two-for-one double feature. Although it's supposed to be a sequel, Desperado is essentially a remake of El Mariachi, featuring a guitar-strumming assassin (Antonio Banderas) who seeks vengeance for the murder of his girlfriend. Special features on Rodriguez-directed films rarely disappoint, but there's nothing new on this disc that you can't find on previous releases. Once Upon a Time in Mexico, Rodriguez's limp threequel, is out on a separate Blu-ray.
THE PHILMGUY REVIEWS: TRUE GRIT
Howl – James Franco continues to assert himself as a leading man to be reckoned with, passionately playing poet Allen Ginsberg in this creatively told biopic. The film examines the persona of the lively, controversial figure through the lens of a court trial in which censorship-minded authorities accused Ginsberg's collection of poetry of being unfit for public consumption. The film is a reverent, nostalgia-dripping tribute to the Beat Generation. A 40-minute making-of documentary and a half-hour series of interviews of those who knew Ginsberg prop up a slate of impressive extras.
Article continues below advertisement
Machete – Danny Trejo tears the screen a new one as a trigger-happy Federale-turned-day laborer in this delightful slice of Mexploitation, directed by Robert Rodriguez. Robert De Niro is delightfully hammy as a racist politician who crusades against illegal immigration, and a saucy cast of supporting actresses (Jessica Alba, Michelle Rodriguez and Lindsay Lohan) are game to add to the mayhem. I enjoyed the movie but was slightly let down because the film didn't quite live up to the gleeful mayhem of the trailer. The Blu-ray/digital copy combo includes deleted scenes, but few of the Rodriguez-trademarked bells and whistles you'd expect.
The Ricky Gervais Show: Season 1 – HBO cleverly took a series of riotous podcasts starring Gervais, partner-in-crim Stephen Merchant and straight man Karl Pilkington and illustrated them with crude animation, creating an instant hit comedy series. The trio generates fascinating and nearly always funny stream-of-consciousness locker room chatter. Storyboards are all you get in a lame slate of extras.