NEWS
The PhilmGuy's DVD Review: 'Diary of a Wimpy Kid'; 'National Lampoon's Vacation'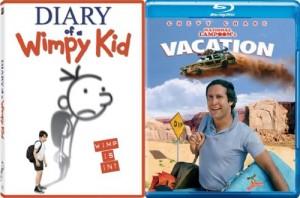 Diary of a Wimpy Kid – A live-action tween melodrama based on Jeff Kinney's bestselling book series, the film is the story of Greg (Zachary Gordon), a social outcast middle-schooler who bobs and weaves through a horror show of bullying, awkwardness and oblivious teachers and parents. There's not much here for you unless you need something to watch with the youngsters, but the movie is harmless and entertaining enough not to bore you. The Blu-ray/DVD combo pack is jammed with extras, including a digital copy, loads of deleted scenes and filmmaker commentary.
Article continues below advertisement
THE PHILMGUY REVIEWS: THE OTHER GUYS
Bull Durham Blu-ray – This 1988 baseball classic features Kevin Costner as a career minor leaguer tabbed to groom a cocky young prospect (Tim Robbins) for the bigs while they end up competing for the affections of a mystical groupie played by Susan Sarandon. The film is an absolute gem, and though the Blu-ray offers no recognizable upgrades over the DVD in terms of extras, at least it paints a prettier picture. Unless you love the movie and don't already own it, you may as well wait a few more years for the inevitable 25th anniversary edition.
THE PHILMGUY'S DVD REVIEW: THE BREAKFAST CLUB BLU-RAY; KICK-ASS
Crumb Blu-ray – The always-superb Criterion Collection bestows its magnificent HD treatment on a too-often overlooked 1994 documentary on influential, sex-obsessed comic book artist Robert Crumb. Director Terry Zwigoff, who would go on to direct the sublime Ghost World and Bad Santa, examines the reclusive subject with a masterful eye for detail, putting his bizarre family and friends under the microscope. There's about an hour of deleted scenes, Zwigoff's commentary and a stills gallery.
Article continues below advertisement
The Killing Room – Four strangers, including Nick Cannon and Clea DuVall, sign up for a psychological research study and end up fighting for their lives by scampering through a deadly maze monitored by cold, distant, government-worker observers, played by Peter Stormare and Chloë Sevigny. The drama melds the sensibilities of Saw and Das Experiment, and though it wallows in direct-to-DVD-style cheesiness, is an endearing lark. There are no compelling extras in the movie, which is available on Blu-ray and DVD.
THE PHILMGUY REVIEWS: DINNER FOR SCHMUCKS
Looney Tunes Super Stars – Rare shorts on separate discs star Bugs Bunny and Daffy Ducks at their hyper-violent, occasionally racist best. My wife pulled my 3-year-old out of the room midway through the Daffy Duck disc, so those who claim to be responsible adults probably won't want their kids watching this stuff. Pre-disc disclaimers warn you that the content is objectionable, but I had a hard time taking any of it seriously because of how over the top it all is.
Article continues below advertisement
Max Headroom: The Complete Series – The short-lived late-1980s series, featuring a computer-generated news reporter and a squad of crime-solving newsmen, finally gets a DVD release. The writing is surprisingly prescient, projecting the way televised news would devolve into a hurricane of inane sound bites and dumbed-down, pre-packaged, agenda-driven content. The DVD is filled with extras, including numerous retrospectives.
THE PHILMGUY'S DVD REVIEW: CLASH OF THE TITANS; RAMBO
National Lampoon's Vacation and European Vacation Blu-ray – Chevy Chase's ridiculously funny 1983 and 1985 farces age well, packing just as many laughs as they did all those years ago. You definitely wouldn't pick up either disc for its extras – standard fare, featuring dated commentary tracks – and HD doesn't improve the mildly muddy looking movies by any stretch.
Phil Villarreal's humorous money-saving book, Secrets of a Stingy Scoundrel, is available on Amazon.