NEWS
The PhilmGuy's DVD Review: 'Fantastic Mr. Fox'; 'Sherlock Holmes'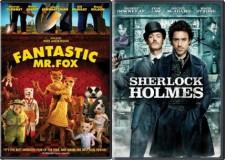 Fantastic Mr. Fox – Wes Anderson's Oscar-nominated stop-motion animated film is about a self-regarding family of foxes who undergo an existential crisis. George Clooney, Bill Murray, Meryl Streep and Jason Schwartzman voice the droll, quirky characters, who breathe offbeat life into the Roald Dahl tale. The Blu-ray comes packaged with a DVD version of the film as well as a digital copy. This is exactly the type of treatment every major new release deserves in this day and age, and the package comes through gloriously. Extras include loads of bonus features, including a comprehensive look at the creation of the stop-motion. CLICK HERE TO WIN FANTASTIC MR. FOX ON DVD!
Article continues below advertisement
THE PHILMGUY REVIEWS: HOT TUB TIME MACHINE
Sherlock Holmes – Robert Downey Jr. hams up the role of the know-it-all sleuth, making the character his own by playing… Robert Downey Jr. Which is just as well, because the actor has so thoroughly branded himself that audiences wouldn't want him playing his roles any other way. He's joined by Jude Law as Watson as the duo unravel a mystery involving a man who appears to be a magician and rains terror on London. Warner Bros. gave the film a superb Blu-ray/DVD/digital copy treatment, and the extras include picture-in-picture commentary, cast interviews and storyboard comparisons. CLICK HERE TO WIN SHERLOCK HOLMES ON DVD!