NEWS
The PhilmGuy's DVD Review: 'Ferris Bueller's Day Off'; 'United States of Tara'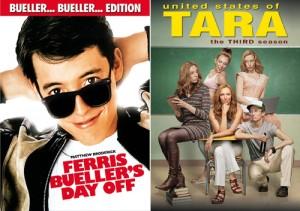 Ferris Bueller's Day Off: 25th Anniversary Blu-ray – In 1986, back when Matthew Broderick was capable of starring in good movies, this John Hughes-directed gem was all the rage. Broderick plays a high school con artist who plays by his own rules, deceiving school faculty and his parents to run wild in one long, glorious day in Chicago. As expected in a 25th anniversary edition, the extras are ample, including cast roundups, vintage behind-the-scenes looks and a featurette dedicated to Ben Stein, who memorably plays one of Bueller's teachers. It's a shame there's no tribute to Hughes, who passed away in 2009.
Article continues below advertisement
THE PHILMGUY REVIEWS: CRAZY, STUPID, LOVE STARRING RYAN GOSLING & STEVE CARELL
Better Off Dead – In this quirky 1985 dark comedy, a forerunner of Heathers (1988), John Cusack plays a high school kid who's devastated after his girlfriend dumps him for the school hunk, leaving him to contemplate fantastical methods of suicide before he finds something that restores his will to live. The film looks good, and is a genuine classic as far as I'm concerned, but it's too bad there are no extras other than the movie's trailer.
Eastbound & Down: Season 2 – Danny McBride reprises his fantastic role as faded baseball star Kenny Powers, who seeks to restart his career by playing in a dumpy Mexican professional league. The HBO comedy pulls no punches, letting McBride blow twisted life into his obliviously racist, homophobic and self-centered character. The series is an utter laugh riot, and is even stronger in the second season than in the impressive debut. Deleted scenes, commentaries and background featurettes fill out the package.
Article continues below advertisement
THE PHILMGUY'S DVD REVIEW: SOURCE CODE; TRUST
Exporting Raymond – Phil Rosenthal, who created the show Everybody Loves Raymond, heads to Russia to recreate his sitcom magic in a strange land. He encounters infinite cultural clashes, which are funnier than anything Rosenthal's show ever produced. Although the subject comes off as a bit of an ugly American, and holds his mediocre show in too high a regard, the documentary is a winner. The extras are priceless, including two episodes of Raymond, as well as corresponding episodes of the Russian remakes.
MST3K vs. Gamera: Mystery Science Theater 3000, Vol. XXI – The MST3K crew mocks the silly, poorly-acted and pitiful special effects-ridden Gamera monster films, not holding back as they trash the onscreen antics and make the movies funnier than they have any right to be. The five discs are housed in a tin and include mini-posters of the films.
THE PHILMGUY REVIEWS: FRIENDS WITH BENEFITS, STARRING JUSTIN TIMBERLAKE & MILA KUNIS
Article continues below advertisement
The Perfect Game – Based on true events of 1957, a team made up of impoverished boys from Monterrey, Mexico make an improbable run through the Little League World Series, overcoming racism and low expectations. Cheech Marin, Lou Gossett Jr., Emilie de Ravin and David Koechner lend a bit of C-list star power to the proceedings, which are hokey but still inspirational in a Mighty Ducks sort of way. The disc strikes out on the extras front.
Rio – Jesse Eisenberg voices a domesticated Macaw who's taken back to Brazil in order to keep his species alive by mating with the rambunctious Jewel (Anne Hathaway). An awkward love story is kept aflutter by intermittently clever writing and colorful visuals, but the movie got lost in the shuffle due to the similarly named and vastly superior Rango. The disc bursts with extras, including music videos, a deleted scene and background featurettes.
Article continues below advertisement
Spy Kids trilogy Blu-rays – Available separately rather than together in a set, the Robert Rodriguez-directed kid flicks, from 2001, 2002 and 2003 respectively, make the leap to high definition, complete with extras that are familiar from the DVD versions — including entries in Rodriguez's excellent "10 Minute Film School" series — and digital copies. The films are nothing special, but are harmless, unchallenging fun.
THE PHILMGUY'S DVD REVIEW: LIMITLESS; TAKE ME HOME TONIGHT
Tracy Morgan: Black and Blue – A bit more reserved than his 30 Rock persona on stage, Morgan delivers a stingingly funny stand-up routine that touches on sex, racism and politics. Morgan is cool and comfortable, providing the illusion that he's riffing off the top of his head rather than performing a script. Fifteen minutes of deleted scenes round out the disc.
United States of Tara: Season 3 – It's unfair that this ended up being the final season of the Diablo Cody-created Showtime dramedy, starring Toni Collette as a mother with multiple personalities that cause havoc for her family. Buoyed by Collette's powerhouse performance and zippy dialogue, the series was just starting to hit its stride. The light slate of extras feel rushed and incomplete.
Phil's novel, Stormin' Mormon, is available as a Kindle book for $1.