NEWS
The PhilmGuy's DVD Review: 'The Kids Are All Right'; 'A Christmas Carol'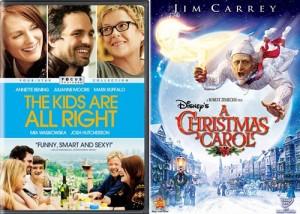 The Kids Are All Right – Lisa Cholodenko's heartstring-tugging Oscar contender rounds up a strong cast for a tale of a lesbian couple's (Annette Bening, Julianne Moore) teen children (Mia Wasikowska, Josh Hutcherson) who seek out the sperm donor (Mark Ruffalo) who is technically their biological father.
Bening, who many prognosticators say is a shoo-in for a best actress Oscar nomination, is excellent as a supportive mother and wife who does her best to restrict her jealousy and distrust of the immature Ruffalo character. A making-of doc joins with Cholodenko's emotional, incisive commentary track make the extras a masters class in how to construct a heartfelt, unpredictable story.
Article continues below advertisement
THE PHILMGUY'S DVD REVIEW: CALIFORNICATION; SCOTT PILGRIM VS. THE WORLD
Avatar: Extended Collector's Edition – Everyone knew April's meager release of the theatrical version of James Cameron's shattering epic was just a warmup for a big-boy follow up. Seven months later, here comes the real deal, which offers the extended cut that buoyed the theatrical re-release as well as 45 minutes of new deleted scenes and even a "family" version of the movie with all the nasty language removed. The most valuable extra feature in the sea of bonus content is Capturing Avatar, an exhaustive documentary about Cameron's 16-year trek to make the movie.
Elf Ultimate Collector's Edition – The excellent 2009 Blu-ray of the 2003 fish-out-of-water comedy – starring Will Ferrell as a man who was raised in Santa's workshop who is forced into the real world – comes in a tin along with a stocking, the CD soundtrack, gift tags and a magnetic picture frame. In other words, you get everything but spaghetti with M&Ms and chocolate syrup on top. On the disc, you get deleted scenes, trivia about the movie and several featurettes, including sing-along songs and background on the North Pole set construction.
Article continues below advertisement
OK! GALLERY: DUE DATE DUDES RDJ & ZACH DO IT UP IN LONDON
Mutiny on the Bounty (1935) Blu-ray – The classic swashbuckler drops anchor on Blu-ray with packaging that doubles as a tribute booklet. The on-disc special features are sparse and disappointing. But the drama, starring Charles Laughton as the dogged, divisive Captain Bligh and Clark Gable as an underling who stands up to Bligh's tyranny, manages to hold water even though 75 years have passed.
Modern Times Blu-ray – Charlie Chaplin had the concept for The Office back in 1936. The master comedian mocks the workplace, as well as mankind's yearning to disconnect from one another via technology, in this insightful satire that only grows more poignant through the decades. It's no surprise that Criterion bowls you over with historical commentary and background information in the extras. True fans of the film can spend weeks analyzing this stuff, which analyzes every aspect of the film, from Chaplin's comic timing to the precise set design.
Article continues below advertisement
THE PHILMGUY'S DVD REVIEW: THE PACIFIC; TOY STORY 3
Ramona and Beezus – Disney larva Selena Gomez teams up with sprightly Joey King to play the latest adaptation of the Beverly Cleary kid-lit sisters. It's a harmless, unchallenging movie that too often seems like window dressing for some of Gomez's new songs, but it's nice to see the franchise stay alive for a new generation. Seven deleted scenes and a short how-to video instructing kids on how to make their own films lead the airy set of extras.
Peanuts Holiday Collection Ultimate Collector's Edition – Warner Bros. teased Peanuts fans with individual releases of the various holiday specials, and rewards those who held off on buying the earlier releases for this blowout set that includes It's the Great Pumpkin, Charlie Brown; A Charlie Brown Thanksgiving and A Charlie Brown Christmas on one disc, along with a stand-up decoration and window decals. I feel bad for those who have already bought the movies individually, but since WB made no secret of its plans to release this set, it just goes to show how important it is to do your homework before you buy movies.
Article continues below advertisement
THE PHILMGUY'S DVD REVIEW: BACK TO THE FUTURE; WINTER'S BONE
The Tudors: The Complete Series – Showtime's magnificent 2007-2010 historical drama about the scandalous, world-changing rule of King Henry VIII (Jonathan Rhys Meyers) shines in this 16-disc set, which makes the period come alive as a fascinating era of sexual politics and religious upheaval. The special features fill in the historical gaps left by the series, helping you sort out fact from poetic license. There are also plenty of deleted scenes and a history professor's analysis of Henry's many wives.
A Christmas Carol – Never passing up the opportunity to ham it up, Jim Carrey stars as Scrooge as well as several other characters in this Polar Express-like motion-captured animated take on the Dickens legend. The film came out a full year ago, and the producers used the extra time to stuff the stocking with ample extras, such as deleted scenes, an interactive advent calendar and an intensive look at the animation process. If you've got a 3D TV, there's a 3D Blu-ray version that will let you show off your expensive toy to gawking friends.