NEWS
The PhilmGuy's DVD Review: 'The Office'; 'Parenthood'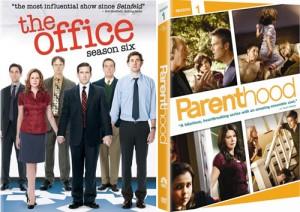 The Office: Season 6 – Kathy Bates adds some Southern-fried charm to one of TV's funniest series, playing the boss of a corporation that absorbs the paper company operated by Michael (Steve Carell), Jim (John Kranski), Dwight (Rainn Wilson) and the rest of the gang. Selected episode commentary, two extended episodes and more than two hours of deleted scenes head an impressive lineup of extras.
Boy Meets World – The first three seasons of the memorable 1990s coming-of-age sitcom starring Ben Savage are out on DVD. The show holds up decently, bringing back a welcome flood of nostalgia from the era. There aren't a whole lot of extras, but the DVDs are worth a look for those looking to re-live their youth.
Article continues below advertisement
THE PHILMGUY'S DVD REVIEW: SONS OF ANARCHY; VAMPIRE DIARIES
A Charlie Brown Thanksgiving and It's the Great Pumpkin, Charlie Brown Blu-rays – The two holiday classics, which run less than half an hour each, are bizarrely sold separately on Blu-rays. Both films are charming classics, and both discs are packed with behind-the-scenes extras and a bonus episode each, but they should have been included in a package deal.
Killers – Ashton Kutcher plays a nowhere-near-believable super-secret contract killer and Katherine Heigl co-stars as his oblivious wife in this wretched comedy-thriller that tests your endurance for insipid gags and stilted action sequences. Avoid at all costs. Extra features include deleted scenes and a featurette on the cast that may as well have been titled "Phoning it In."
MacGruber – As Saturday Night Live skits-turned-movies go, MacGruber is closer to memorable efforts such as Wayne's World and Coneheads rather than barely-worth-remembering duds such as The Ladies Man and Superstar. Will Forte plays a MacGuyver-like detective hero who hunts down a nuclear warhead. Kristen Wiig, Ryan Phillippe and Val Kilmer round out a steady cast and help keep the laughs flowing. A gag reel and commentary with Forte and the filmmakers fill out the Blu-ray.
Article continues below advertisement
The Norm Show: The Complete Series – Offbeat stand-up comic Norm Macdonald plays a former hockey player who is forced to serve as a social worker after he was convicted of gambling. Macdonald's witty, sly delivery and some inspired writing makes the first few episodes some of the funniest TV I've ever seen, but then the show loses its magic and becomes a bore. Macdonald pitches in for some commentary tracks.
The Player Blu-ray – Robert Altman's 1992 take on the Michael Tolkin novel is an acerbic look at Hollywood's dirty underbelly. Tim Robbins plays a studio exec who tries to find out which bitter screenwriter is trying to blackmail him. Whoopi Goldberg, Vincent D'Onofrio, Peter Gallagher and Lyle Lovett make appearances in the story, which bounds back and forth among several characters with crisscrossing lives. The Blu-ray includes an old commentary track from Altman and Tolkin.
Article continues below advertisement
THE PHILMGUY REVIEWS: GOING THE DISTANCE
A Scanner Darkly Blu-ray – Director Richard Linklater rounds up an impressive cast for this rotoscope animation take on a Philip K. Dick novel. Keanu Reeves, Robert Downey Jr., Winona Ryder and Woody Harrelson star in the thriller about a cop (Reeves) who investigates a drug that makes people lose their identities. A behind-the-scenes featurette showed how Linklater and his animators animated the film by painting over live-action footage with computers.
Smallville: Season 9 – The CW series that stars an able Tom Welling as a young (not-so-young-anymore) Clark Kent is showing its age, but occasionally still offers cheesy thrills and intriguing storylines. The season features an invasion from Kent's Kryptonian kin who plan to take over the world. Extras include a look at Zod, the villain du jour, and a featurette on the series' creative team.
Solitary Man – Turning in a spectacular performance as a caddish, conniving businessman forced to answer for decades of bad deals and infidelity, Michael Douglas shines. Co-starring are Susan Sarandon as the Douglas character's one-that-got-away ex and Jesse Eisenberg as a college student who looks to him as a mentor, the film is an under-the-radar gem. The only notable extra other than filmmaker commentary is a 11-minute making-of doc.
Article continues below advertisement
THE PHILMGUY'S DVD REVIEW: LOST: THE COMPLETE COLLECTION; GOSSIP GIRL
Stardust Blu-ray – This 2007 fantasy never made much of a splash, but gets a delayed Blu-ray release. Claire Danes sparkles as the human incarnation of a fallen star that a young hero (Charlie Cox) vows to return to its rightful place in the heavens. Robert De Niro, Michelle Pfeiffer and Sienna Miller are all strong in quirky supporting roles. The Blu-ray includes a new slate of extras, including filmmaker commentary and several making-of featurettes, as well as previously released deleted scenes and a blooper reel.
THX 1138: The George Lucas Director's Cut Blu-ray – Before George Lucas hit it big with Star Wars, he flexed his developing talents in this trippy 1971 sci-fi drama, set in the 25th century, as a pair of lovers who rebel against a Utopian underground society that's banned sex. Lucas and Walter Murch provide commentary and there's an insightful making-of doc.
Article continues below advertisement
Why Did I Get Married Too? – Writer/director Tyler Perry's sequel to his lifeless 2007 dramedy is an all-around improvement but still totally forgettable. The film focuses on several on-the-outs couples looking to rekindle the flames as they vacation to the Bahamas together. The disc includes separate looks at the male and female characters, as well as a music video by Janet Jackson, who is one of the castmembers.
Parenthood: Season 1 – The NBC drama gets better as it goes, creating a slow burn with several interlocked stories of parents struggling with keeping their relationships and work lives together while raising children. Lauren Graham, Peter Krause, Craig T. Nelson and Erika Christensen are among the series' stars. The box includes deleted and extended scenes.
Phil Villarreal's humorous money-saving book, Secrets of a Stingy Scoundrel, is available on Amazon.