NEWS
The PhilmGuy's DVD Review: 'The Road'; 'True Blood'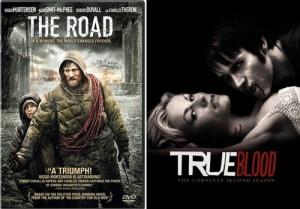 The Road – Viggo Mortensen stars in this slow, post-apocalyptic Cormac McCarthy adaptation about a man and his son who slog toward the south as they strive for survival. The gloomy, murky movie doesn't look so hot, even in high def, and the plot drags and stalls in between too-short flurries of action. A director commentary and making-of doc make up the special features.
Article continues below advertisement
Mystery Team – A silly, Napoleon Dynamite-like comedy that grows on you as it rolls features a high school squad of inept wannabe Hardy Boys who try to solve mysteries, taking themselves seriously despite being ridiculed by everyone around him. The cast lacks stars but offers a decent stream of so-dumb-they're funny moments. The movie is worth at least a rental, because the extras are surprisingly expansive: director commentary, deleted scenes and a slew of background featurettes.
THE PHILMGUY'S DVD REVIEW: VALENTINE'S DAY; LEGION
Spartacus Blu-ray – The 50th anniversary edition of the Staley Kubrick epic looks fantastic if not mind-blowing on Blu. The film stars Kirk Douglas as a slave who guides his compatriots to revolution over the Roman empire. The extras are disappointing: a few interviews, deleted scenes and period news reels. The all-time great film is more than enough to justify a purchase though.
Article continues below advertisement
THE PHILMGUY'S DVD REVIEW: DARIA; EDGE OF DARKNESS
True Blood: The Complete Second Season – HBO's gothic vampire series continues its momentum in its sophomore year, following the increasingly perilous adventures of Sookie (Anna Paquin) as she insinuates herself into a vampire society. Seeped in Southern-fried colloquialisms, stark social commentary and sexy interludes, the series shimmers on Blu-ray. The extras are phenomenal: picture-in-picture trivia, cast and crew commentaries and my favorite, the faux news episodes of The Vampire Report.
Phil Villarreal's humorous money-saving book, Secrets of a Stingy Scoundrel, is available on Amazon.