NEWS
The PhilmGuy's DVD Review: 'Valentine's Day'; 'Legion'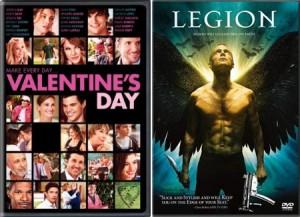 Valentine's Day – Taking the path well worn by Magnolia, Love Actually, Crash and countless others, the star-studded romance looks in on numerous interrelated characters, following them through love-focused crises that end in blissful affirmations.
Jessica Alba, Jessica Biel, Jamie Foxx, Jennifer Garner, Ashton Kutcher and the Taylors (Lautner and Swift) are just a few of the cast members. The movie is nothing special but adequate for stargazing. The Blu-ray is stacked with a DVD and digital copy, as well as a blooper reel and commentary by director Garry Marshall.
Article continues below advertisement
THE PHILMGUY REVIEWS: VALENTINE'S DAY
Black Sheep/Tommy Boy Blu-ray – The set includes two mid-1990s gems in which David Spade and Chris Farley teamed up to be one of the all-time great comedy teams. The films have also been re-issued as stand-alone discs. Dumb comedies don't benefit much from the HD treatment, and the special features don't surpass the films' DVD releases, but the two-in-one is a nice way to get two of the funniest movies I've ever seen in one package.
THE PHILMGUY REVIEWS: SHREK FOREVER AFTER
Carlito's Way Blu-ray – Al Pacino mobs it up with Scarface director Brian De Palma in this 1993 drama as a Puerto Rican gangster who tries to go straight after he gets out of prison. Pacino hams it up in the way only he can as he consolidates his power with brutal violence and unleashes some excellent smack talk. Don't expect anything more than the same adequate set of extras from the DVD or ill-advised HD-DVD release, but it's always nice to have another of visual master De Palma's films on Blu.
Article continues below advertisement
THE PHILMGUY'S DVD REVIEW: DARIA; EDGE OF DARKNESS
The Messenger – Woody Harrelson stars in his Oscar-nominated turn as a resigned Army officer charged with delivering news of troops' deaths to their next of kin. Joined by a green, unseasoned combat vet (Ben Foster) whom he's training, the two men shoulder the load of delivering unthinkable news, always catching people at their moments of greatest despair. All the while, they work out the kinks in their own fragile alliance and overcome personal demons. Among DVD extras are filmmaker and cast commentary and interviews.
Legion – A trashy, relentlessly silly while revoltingly violent thriller, Legion features avenging angels who usher in the apocalypse, terrorizing a dusty desert town. Some awful CGI derails the occasionally exciting effects. Paul Bettany, Lucas Black, Tyrese Gibson and Dennis Quaid do their best to keep straight faces amid the ludicrous plotting. The Blu-ray includes a making-of doc and a digital copy not only for your computer, but also for the PS3 and PSP – sadly a rarity among new releases.