NEWS
The PhilmGuy's DVD Review: 'Salt'; 'Easy A'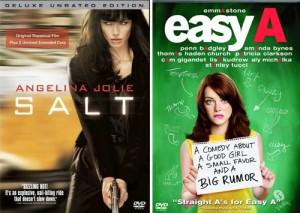 Salt – Angelina Jolie smolders as a sleeper secret double agent who becomes a pawn in a game of one-upsmanship between the Americans and Russians. Jolie proves she has exactly what it takes to evolve into a top-tier action star, should she choose to do so, and the film packs enough twists to keep you interested. The Blu-ray/DVD pack includes filmmaker commentary, a featurette praising Jolie's appeal and an interview with the director.
Article continues below advertisement
THE PHILMGUY REVIEWS: HOW DO YOU KNOW?
The A-Team – Director Joe Carnahan, who once showed so much promise with the gritty crime film Narc, proves he's completely sold out, helming this aimless remake of the cheeseball 1980s action series. Liam Neeson, Bradley Cooper, MMA star Rampage Jackson and Sharlto Copley do all they can to enliven a cookie-cutter script about a gang of former special forces fighters who break out of prison to clear their names and bring down the bad guys. The movie doesn't quite live up to memories of the corny but entertaining series, and wears out its welcome by the midpoint. The Blu-ray/DVD/digital combo pack includes an alternate version of the film, deleted scenes and a look at Carnahan's filmmaking techniques, such as they are.
THE PHILMGUY'S DVD REVIEW: THE TOWN; THE OTHER GUYS
Devil – Maybe M. Night Shyamalan should step back into a producer role more often. Devil, a high-concept thriller that takes place mostly inside an elevator. A subplot laden in supernatural mumbo jumbo suggests that one of the people stuck in the elevator is the devil incarnate, tipping off movielong speculation about who the culprit is, as the characters suffer mysterious injuries and begin to turn on one another. The movie isn't exactly believable, but it's more interesting than anything Shyamalan has directed in the past several years. The Blu-ray/DVD/digital copy combo includes a light set of extras, including an interview with Shyamalan and deleted scenes.
Article continues below advertisement
THE PHILMGUY REVIEWS: THE FIGHTER
24: The Complete Series – Jack Bauer's eight-season saga finally comes to a close, probably a few seasons too late. The shoebox-sized set is still well worth a purchase for action fans, who can go back and revisit their favorite episodes at will. At its best, 24 was one of the finest equivalents of a blockbuster action movie ever to air on TV. The set includes a bonus DVD with a retrospective on the series and an extra scene that shows events after the final episode ends. Season 8 also debuts on Blu-ray, looking spectacular just as season 7 did. Those are the only two seasons yet to have seen high definition thus far, and the complete series is only out on DVD.
Wall Street: Money Never Sleeps – Shia LaBeouf is making the rounds of series from the 1980s, starring as a young, smarmy punk who tries unsuccessfully to take over a franchise from a screen legend. Here he stars as a hotshot stock trader who falls for the beleaguered daughter (Carey Mulligan) of the infamous Gordon Gekko (Michael Douglas), a convicted inside trader who claims to have reformed after he's released from jail. LaBeouf and Mulligan are mere side dressing for Douglas to reignite the flame in a character that won him a best actor Oscar. The film is hit and miss, but an absolute must-see for anyone who loves the original. The Blu-ray/DVD/digital copy combo pays dividends, with 15 deleted scenes, a documentary on director Oliver Stone revisiting the series, Stone's commentary and a tour of the real Wall Street.
THE PHILMGUY'S DVD REVIEW: INCEPTION; SHREK
Easy A – Tackling her juiciest role to date, Emma Stone (Superbad) plays a high school wallflower who pretends to be the school slut in order to earn some notoriety and conduct a social experiment to boot. The whip-smart dialogue is reminiscent of Juno, and Stone, who is running out of time in being able to take teenage roles, gives the genre a rollicking send-off. Stone's audition tape, a gag reel and pop-up trivia fill out the extras.