NEWS
Police Confirm Casey Johnson Death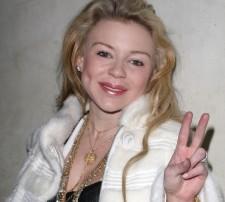 The LAPD have released a statement to OK! confirming the death of Johnson & Johnson heiress Casey Johnson. Officer Sara Faden tells OK! the details so far.
"Earlier today at about 11:51 this morning, our Wilshire area patrol officers responded to an ambulance death investigation in the 900 block of North Orlando Avenue. The L.A fire department also responded and pronounced Miss Casey Johnson dead at the scene. Through a preliminary death investigation it does appear it was a natural death as there was no foul play. And of course the Los Angeles coroners office will conduct their own investigation, which includes a toxicology screening. There is no evidence at this time that there was any foul play."
Article continues below advertisement
---------
According to earlier reports, Casey was found dead in Los Angeles on Monday morning, though no cause of death was given.
After the news broke online, Tila Tweeted:
"Everyone please pray 4 my Wifey Casey Johnson. She has passed away. Thank u for all ur love and support but I will be offline to be w family"
And then:
"This is a very heartbreaking time for me. I just want some pricacy as I deal with the loss of my Fiance Casey Johnson. I'm heart is shredded"
Minutes later, the reality star muddied the waters with these Tweets:
"I just got news that my fiance is not dead but currently in a coma!!! Omg please pray that she will make it! Hang in there my love please!!!"
Followed seconds later by:
"I know u can feel me Casey! Dot let go! I'm almost home baby please hang on! We have a beautiful life planned out for us! I LOVE u! Hang on!"
A short time after news of the confirmation was posted online, Tila Tweeted the following, which seems to imply that she is no longer holding out hope that Casey is still in a coma:
"I'm still in shock! Once again thank U for the outpour of love and support. I just wish to have some privacy at this heartbreaking time."
Hopefully, the police statement will put the end to speculation and Casey's loved ones can begin to grieve for their loss.