NEWS
Prep Your Dinner Menu For the Fall Season With These 5 Tips From Top Chef Finalist Stefan Richter!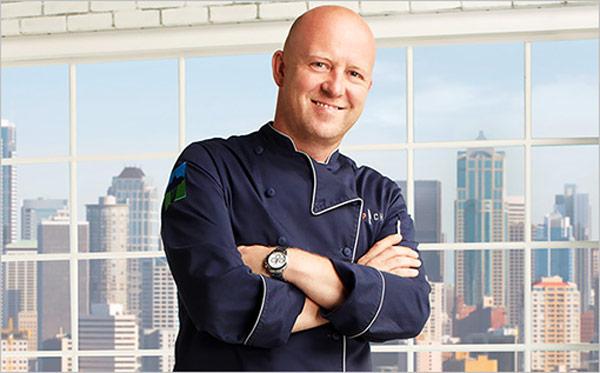 After your Labor Day picnics are over, an entrée consisting of hamburgers, hot dogs, watermelon, and tons of those yummy popsicles from the ice cream truck won't look so enticing anymore. You'll need to switch back into the gear of fall cookin'! Even if you don't like the crisp air, you'll want to enjoy your homemade grub, right? Thanks to the harvest season, you have the opportunity to snack on something seriously good.
Article continues below advertisement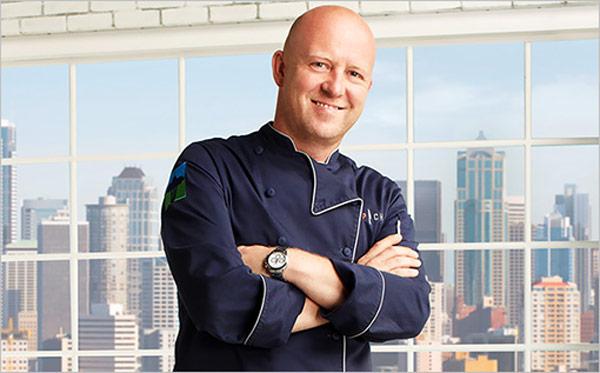 Check out his recipes below, and if you're ever in the Santa Monica area, stop by his restaurant for a snack!
Fire Engine
Serves 1
Ingredients:
Tequila
Domaine de Canton (Ginger Liqueur)
Orange Juice
Directions:
1. 2 oz. Tequila
2. 1 oz. Domaine de Canton
3. 1 oz. Orange juice
4. Shake all ingredients together, serve on the rocks.
5. Garnish with Lime Wedge
Pumpkin Soup
Serves 8
Ingredients:
1 Whole Pumpkin
1 Onion
2 Garlic Cloves
1 Teaspoon All Spice
1 Teaspoon Nutmeg
1 Teaspoon Cinnamon
1 Teaspoon Sugar
4 Quarts Chicken Stock
Article continues below advertisement
Quart of Cream
2 Bay Leaves
1 Cup of White Wine
Salt and Pepper to Taste
Directions:
1. Peel and skin pumpkin- cut in half and remove the seeds.
2. Cut into small chunks
3. Cut onion and garlic into small pieces
4. Over medium heat in a large pan, sweat/sauté onion and garlic
5. Add pumpkin chunks to pan, roast for 5 minutes
6. Deglaze with white wine, scrapping the pan to release everything
7. Add chicken stock, spices, sugar and bay leaves
8. Bring to a simmer, cook until pumpkin chunks are tender
9. Add cream, bring to a boil
10. Blend
11. Season to taste, train through a fine strainer
12. Serve while hot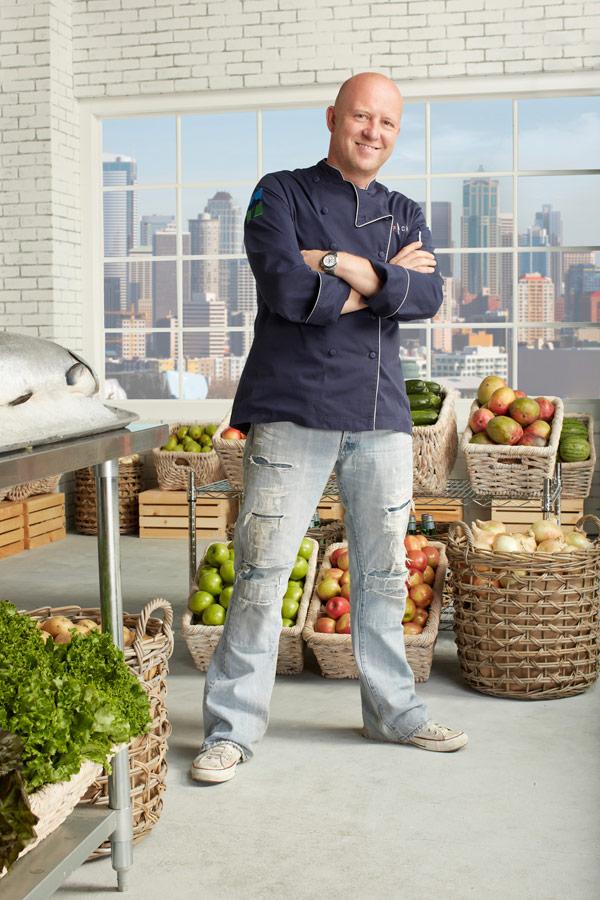 Pancetta & Mushroom Risotto
Serves 4
Ingredients:
Pancetta
Risotto Rice
Fresh mixed mushrooms
Olive Oil
White Onion
Crushed Garlic
Chicken Broth
White Wine
Parmesan Cheese
Butter
Salt and Pepper
Directions:
1. Saute ½ white onion, 3 oz. pancetta, 1 tablespoon crushed garlic, 2 cups of mushrooms in olive oil.
Article continues below advertisement
2. Add 6 oz. of rice, on low heat.
3. Add ½ cup of white wine and slowly add (20 oz.) of chicken broth, simmer until rice is cooked aldente. Continue to add chicken broth until completely absorbed.
4. Turn off heat, and add 1 cup of grated parmesan cheese and ½ cup of butter.
5. Serve family style.
Photos: Refreshing Iced Tea Recipes
Watch: Jeff Lewis Talks About the Housewives!
Pear & Blue Cheese Salad
Serves 4
Ingredients:
2 Ripe Pears, Peeled and Cut in Small Cubes
2 Medium Sized Golden Beets Roasted
3 Tablespoons Crumbled Blue Cheese
1 Tablespoon Extra-Virgin Olive Oil
1 Tablespoon White Wine or Champagne Vinegar
2 Teaspoons Clover Honey
Salt and Pepper to Taste
8 oz. of Arugula and Water Cress
1/2 Cup of Roasted Walnuts
Directions:
1. Wrap the beets in foil with veggie oil, salt and pepper to taste and roast in a 425 degree oven, about 45 minutes.
Article continues below advertisement
2. Put the cubbed pears in a medium sized bowl, and dress with the honey, olive oil, and vinegar, salt and pepper and let rest for 10 min
3. When the beets are cooked let them cool down for 15 min, peel and cut them into small even cubes and add to your mix.
4. Add the greens, mix/sprinkle the crumbled blue cheese and nuts atop the beet and pear salad.
OK! News: Hunger Games Hair and Makeup: Take a Look at the New Covergirl Ad!
Mulled Cider
Serves 8
Ingredients:
Large Bottle (1/2 gallon) of Unfiltered Apple Cider
2 Oranges, Cut Into Large Chunks
1 Tablespoon Cloves
1 Tablespoon Star Anise
¼ Cup Honey
4 Cinnamon Sticks
1 Teaspoon Nutmeg
You're Favorite Dark Liquor, Bourbon, Spiced Rum, or Brandy
Crock pot
Directions:
1.Combine all ingredients (except liquor) into a crock pot.
2. Slowly heat liquid on low.
3. After at least an hour, use a strainer to remove all spices and fruit from cider.
4. Serve cider in heat proof glassware, add a shot of your choice of liquor and garnish with a cinnamon stick.
Will you try any of these recipes? Tweet @OKMagazine and @topchefstefan and leave a comment below.