NEWS
President Barack Obama Celebrates His Irish Heritage on St. Patrick's Day!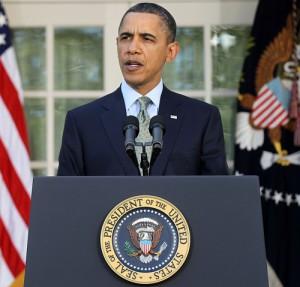 It's not news to President Barack Obama that his great-great-great-great-grandfather left Ireland in 1850, fleeing the potato famine, but it might be interesting news to the 28 living relatives he has right now!
Obama's ancestor, Falmouth Kearney, came to the U.S. at 19 from Ireland, the Associated Press reports, according to Ancestry.com. Kearney, a laborer, and his 23 fellow Irishmen arrived on the Marmion on March 20, 1850. Obama's mother, the late Stanley Ann Dunham, is descended from Kearney's daughter, Mary Ann Kearney, who married and Jacob William Dunham.
Article continues below advertisement
OK! NEWS: MATT DAMON "WANTED MORE" FROM PRESIDENT OBAMA; SAYS HE'S "NOT A FAN"
The President (wearing a green tie, of course) discussed his family heritage today during a luncheon at the Capitol.
"Now, speaking of ancestry, there has been some controversy about my own background," he said, via the AP. "Two years into my presidency, some are still bent on peddling rumors about my origins. So today I want to put all those rumors to rest. It is true my great-great-great-grandfather really was from Ireland."
OK! NEWS: PRESIDENT OBAMA NOT INVITED TO ROYAL WEDDING
After applause, he added, "It's true. Moneygall, to be precise. I can't believe I have to keep pointing this out."
Among his living relatives are more than a few Republicans living in Kansas, including Dorma Lee Reese, of Tuscon, Ariz., who told the AP, "I'm not a Democrat, so I can't say I clapped. I don't appreciate what he's done by any means, but I do appreciate that he holds that office."
Article continues below advertisement
OK! NEWS: PRESIDENT OBAMA'S SMOKING HABIT IS A THING OF THE PAST!
Sandra West, 65, of Hereford, Ariz., also was identified by Ancestry.com. She'd already figured out she was a relative to Obamas during some of her own genealogical digging, telling the AP, "I figured there had to be a connection somewhere," she said. The principal at the school where she teaches said she should ask for a tour of the White House.
"I don't think he would want to pay much attention to me," she said. "I'm sort of a peon down the road. I'm nobody special."