NEWS
Producer Shares 'Breaking Dawn' Details: Sex Scene "Does Not Become Soft Porn"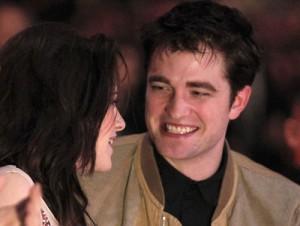 It's been a good week to be a Twi-hard after Kristen Stewart, Robert Pattinson and Taylor Lautner showed up to the People's Choice Awards. And now Twilight Saga: Breaking Dawn producer, Wyck Godfrey is spilling details about the film!
OK! GALLERY: TWILIGHT THREESOME TAKE AS OVER PEOPLE'S CHOICE AWARDS WINNERS
Wyck chatted with USA Today from the Baton Rouge set to answer some questions for fans. From how they divided the book, to filming the birthing scene and most importantly, the sex scenes, Wyck tried to cover it all!
Article continues below advertisement
***WARNING: SPOILERS BELOW!!!***
Where will Breaking Dawn Part 1 split from Part 2?
"We basically want to take the audience through the emotional part of Bella's journey as she becomes a vampire," Wyck explained. "The first part will cover the wedding, the honeymoon and the birth."
How did they handle filming Bella's point of view and Jacob's?
"The story will break from her and follow Jacob throughout the course of the movie as he struggles with his own dilemma," he said. "There is a sense that as Bella and the Cullens deal with her pregnancy, the world is still turning outside with Jacob."
Article continues below advertisement
So they tried to come up with a compromise and film the birth scene through Bella's eyes.
"She is looking through the haze, experiencing pain and everything rushing around her," he explained. "We only see what she sees."
OK! NEWS: PEOPLE'S CHOICE AWARDS 2011 WINNERS — TWILIGHT REIGNS VICTORIOUS!
And finally, how are they going to portray the long-awaited sex scene between Edward and Bella?
While Wyck admits the physical relationship is taken up a notch compared to the first three films, he says, "it does not become soft porn."
Sorry, to those who are disappointed.
"It is a legitimate and important part of the movie, romantic and sensual," he explained.
Breaking Dawn will be split into two parts with the first hitting theaters Nov. 18, 2011 and the second Nov. 16, 2012.