NEWS
'Project Runway All Stars' Recap: And Then There Were Three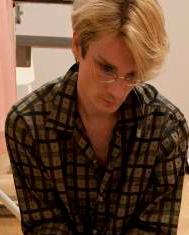 Ok, so before we get into business, we just want to say: Yay! We got to see Anthony L. Williams again! Project Runway fans everywhere rejoice.
Georgina Chapman and Isaac Mizrahi join Angela Lindvall on the runway and Angela says that normally, designers take months to create their collections, and even on Project Runway, they have weeks. BUT! "This is all-stars," she says annoyingly. "And we know what you're capable of."
Article continues below advertisement
Georgina then explains that the designers are to create a five-piece mini collection in four days' time (because if Angela had been the one to explain, everyone would have thrown something at their televisions). Somehow, everything that comes out of Georgina's mouth sounds reasonable and fair. Angela then confuses things by saying they have five days, but we'll just pretend we didn't hear that.
The designers then head to the offices of Marie Claire to meet with Joanna Coles. The only thing more impressive than the office is Joanna herself. We love her canary-yellow dress and shoes. In fact, whoever shot this episode seemed to have an obsession with shoes. We get a long focus on Mondo Guerra's checkered slip-ons and Michael Costello's dress shoes under the table. Alas, they did not play footsie.
OK! NEWS: PROJECT RUNWAY ALL STARS RECAP: READY-TO-SELL WITH NANETTE LEPORE
The final three then head to Mood, where they have a $3000 budget. Michael decides on a tribal/safari meets resort wear theme, Mondo works himself into a funk and has no idea what he's doing, and Austin Scarlett describes his theme as "Fragonard, Madame de pompadour meets 21st century rock-star/Williamsburg Hisidic gentleman." Oooh-kay. Fragonard, by the way, is a French painter and printmaker whose works were distinguished by "remarkable facility, exuberance and hedonism." That's direct from Wikipedia, folks. Hey, we didn't know.
Article continues below advertisement
The workroom has been transformed into three mini workrooms for the designers. Everyone thinks this is cool, and Mondo begins to unravel.
Austin: Do you like the new set-up?
Mondo: I like that I can close my door.
Yikes.
As the episode progresses, Mondo says things like: "I feel dead inside" and "I want to quit." When his buddy Michael offers him an ear, Mondo says, "No thanks. I don't want to go to the zoo (a dig at Michael's theme)." Ouch, Mondo!
Article continues below advertisement
At the model casting the next day, Mondo complains that Austin is taking over everything. We didn't see anything wrong with Austin asking a model to wear one of his skirts. Mondo and Michael could have done the same thing. This is a casting, after all. Couldn't a model have a great walk but not be right in someone's particular clothing? Mondo and Austin then fight over two models, and have a coin-toss. Mondo wins one, Austin wins the other. Mondo sulks. "Good for Austin," he says. "That's become my motto. Good. For Austin."
Sigh. We love Mondo but this is getting exhausting. Even Michael says something about his negative energy.
Austin tells us he is always gets stuck picking last, and this happens once again when Isaac comes by with a CD of runway music. It contains only three tracks, and Michael and Mondo go ahead and choose first, leaving Austin to work with whatever is left over. They couldn't have picked names out of a hat?
Article continues below advertisement
AngelUGH (yeah, we went there) comes in and pronounces that there is a twist! Absolutely no one is shocked to find out they have to create a sixth look. However, they have to use scraps of fabric left over from all their previous challenges to execute it. We think this is pretty cool. Then, all the eliminated designers strut into the workroom. The designers get to choose one person to provide 24 hours of help. Mondo picks Mila Hermanovski (who looked gorgeous during the after-show, by the way), Michael picked April Johnston, and Austin chose Anthony! Yay! We so wanted to spend some time with Anthony! To Mondo's credit, he chose Austin to pick a helper second. Aww.
We wonder where all the designers who are not picked go after that. We like to think they all go out for drinks and tapas and talk about how Rami Kashou should be in the final three. We also suspect that they like Kenley Collins in spite of themselves, and that there were compliments given to Sweet P's high-waisted jeans.
That's it! Next week we find out who wins. Who are you guys rooting for?