NEWS
'Project Runway All Stars' Recap: Ready-to-Sell With Nanette Lepore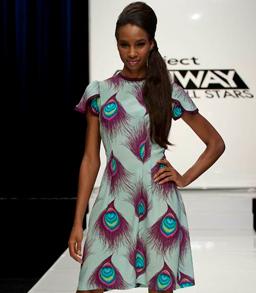 Angela Lindvall tells the designers that there are four of them left, which is pretty stupid because, you know. The designers are living together. She continues to say that there are only three spots in the final, which is also pretty stupid because, you know. The designers have all been through this before (and none of them were on season three, when they had a four-person finale). Finally, Angela gives them so useful information: they are going to Nanette Lepore's studio, and the challenge is to design a ready-to-wear look within a real-world budget. The winning look will be mass-produced and sold in Nanette Lepore stores nationwide.
Article continues below advertisement
The designers are in an interesting position at the start of this challenge. Both Kenley Collins and Mondo Guerra reached the finals on their seasons, and Austin Scarlett and Michael Costello were eliminated at this point in their seasons.
At Nanette's studio, the designers have time to sketch and meet with Kelly Keough, a fashion coster who advises them about retail costs and fabric costs, and production costs.
Article continues below advertisement
Kelly goes to Mood, which marks the first time the designers were accompanied to Mood all season! Crazy. We liked seeing this business aspect of the design process and wished Kelly was around all season.
The designers are all a little feisty by this point. Michael says he doesn't get what the judges see in Austin. Mondo says Michael is making the same dress he always does. At Nanette's studio, Kenley said Mondo should know how to sketch if he's going to be a designer. Austin says Michael's clothes are difficult to wear if you're not a model.
Nanette visits the workroom with Joanna Coles, and has a tift with Kenley about the fit. The sketch she originally showed was more fitted and included a keyhole neck, which Nanette thought was fabulous. Kenley says her design is perfect the way it is. It's really the first glimpse of Season five Kenley that we have seen on All Stars. We like to imagine Nanette and Tim Gunn drinking cocktails and commiserating over their experiences with Kenley, but we doubt Mr. Gunn holds grudges.
Article continues below advertisement
OK! NEWS: PROJECT RUNWAY ALL STARS RECAP: COUTURE CLASH WITH FLAGS OF THE UNITED NATIONS
On to the Runway!
We really liked Austin's raincoat. We liked the color and the fit, and that you could wear it so many different ways. We wish it was a touch more dramatic, but then it would retail for even more than the $500 Kelly projected.
The only thing we found interesting about Michael's dress was the print, which wasn't really that interesting. And, as Mondo noted, it is almost the same cut as the dress Michael made for the gelato challenge.
We absolutely loved the prints and colors in Mondo's dress! Mondo compared the dress to pit bulls who are so ugly, they're cute, and we see what he means. But, this is a "look at me" dress. We just wish it was a bit more fitted, and we're not crazy for the sleeve.
We loved Kenley's dress, but we do wish it was more fitted. It was a different silhouette for Kenley though, which was appreciated. And, we loved the print and the tulip sleeves.
Article continues below advertisement
We must admit that the judges, especially Isaac Mizrahi, were totally on point with the critiques. He wished Mondo's dress was more fitted, he thought Michael's dress looked a little cheap, especially given the strap across the back… so many things we thought as we were watching! Nanette is still really upset Kenley ditched the keyhole. Just get over it already, lady. Not everyone likes a keyhole. We'll blame this seeming keyhole obsession of hers on the editing though, because we really do like Nanette Lepore designs (and fragrances, actually!). Georgina Chapman was her perfect self. Can we get Georgina as a regular judge on Project Runway, please?
Mondo is declared the winner! The profits from his dress will go to savethegarmentdistrict.org, which is exactly what it sounds like (damn the high rents in NYC!). Kenley is sent home, and we're bummed. She might have an attitude, but we like her designs, and would have loved to see what she did for the finale.
What do you think of our final three? Is anyone buying Mondo's dress?