NEWS
'Project Runway All Stars' Recap: Taste Test with Diane von Furstenberg and Miranda Kerr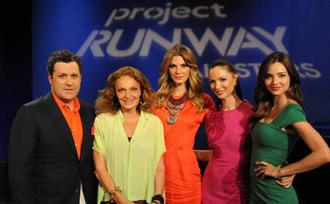 We love when emotions run high on Project Runway All Stars but we primarily watch for the design and construction. Giving the designers ridiculous time constraints is detrimental to their processes, and prevents us from seeing interesting, well-constructed work. We're not particularly interested in any show that heavily features a hot glue gun, so we certainly don't want to see season 1 superstar Austin Scarlett use one to finish his dress.
Article continues below advertisement
OK! NEWS: 'PROJECT RUNWAY ALL STARS' RECAP: MISS PIGGY'S PASSION FOR FASHION
Anyway, let's get into the challenge.
Before being robbed of time, our top ten all-stars are gifted some gelato — each a different flavor, which they are to use as the inspiration for their design. Here's what everyone worked with:
Michael Costello: Grapefruit
Mondo Guerra: Cantaloupe
Mila Hermanovski: Milk and Sour Cherries
April Johnston: Blueberry
Jerell Scott: Fruit of the Forest
Kenley Collins: Passion Fruit
Austin Scarlett: Vanilla Madagascar
Rami Kashou: Kiwi
Anthony Williams: Green Tea
Kara Janx: Chocolate With Cayenne Pepper
The designers rightly flip out when host Angela Lindvall brings out Diane von Furstenberg, who will be a guest judge. We're not sure what the relationship is between Diane and gelato, but that's ok because we love us some DVF. Diane tells them they only have slightly longer than it might take their gelato to melt to finish their looks — six hours.
Article continues below advertisement
In order to get us really pumped for the challenge, Kenley says, "I'm not going to try anything new or take major risks because I really just need to get something done."
And that right there is the problem with these McChallenges!
Appropriately, a mini Mood was brought to Parsons. Joanna Coles, Marie Claire editor-in-chief and all-stars mentor, shows up to dispense advice and even brings the designers "a snackaroo" (a cup of their chosen gelato)!
OK! NEWS: 'PROJECT RUNWAY ALL STARS' CHANGES ALL THE RULES
To the runway! Our judges are Angela, Georgina Chapman, Isaac Mizrahi, Diane and supermodel Miranda Kerr, who will wear the winning designer's look to an industry event. Question: why weren't the designers notified about this beforehand? It seems like that might be a handy dandy piece of knowledge to have (that one of the judges, who will potentially wear your garment, is a supermodel who is currently breastfeeding) in order to win.
MORE ON:
Diane von Furstenberg
Article continues below advertisement
At the top: Mila worked with color! She created a fun red-and-white print. We agreed with the judges that her styling was too severe (that belt looked like it weighed 12 pounds, and the shoes were way too chunky for such light fabrics). She received this note quite often in season six.
The judges loved Mondo's "loose interpretation" caftan. We liked it too, but we thought the orange center and the green sleeves were a little too literal.
WINNER! Michael wins for the second week in a row, and again, it is well deserved! Michael's look was so old Hollywood glam! Any woman would feel like royalty in it. Great job, Michael!
On the bottom: Anthony said his two-tone look was inspired by watching his gelato melt. Diane said she liked the concept, but all the judges thought the outfit just wasn't cohesive or especially flattering.
Kara, the model looked pregnant; Kara should have gone home.
Article continues below advertisement
OUT! April blamed time for her poorly-fitted dress, but back in the workroom, she admitted to not purchasing enough fabric at mini Mood, so what gives? Her purple-ish blue frock would have been cute if constructed correctly, but it was way too short in the back. The judges sent her home for lack of unique vision — and construction skills.
OK! NEWS: PROJECT RUNWAY ALL STARS HOST ANGELA LINDVALL TALKS STYLE WITH OK!
Some other gems: Michael's runway pose when he went to choose his gelato. Were Mila and Mondo holding hands and skipping into Parsons? We hope. Jerell calling Kara's model "a pregnant cupcake." We are pretty sure Austin chose Vanilla Madagascar just so he could keep saying, "Vanilla Madagascar."
Also, Austin looming above Kara in the sewing room when she has trouble finishing on her machine. He just towered over her in a quiet, menacing way, scissors in hand, all pale, looking like the ghost of Project Runway past (which, hey, he kind of is!) until Kara ran for her life back to the workroom. He explained that this was done in effort to "avoid an altercation." Yikes. What was he going to do, strangle her with some matte jersey? Why didn't he just use another machine?
That's the show, Project Runway devotees! What did you think of the challenge?