NEWS
The "R" List: 'Big Brother' Star Rachel Reilly Skypes Back!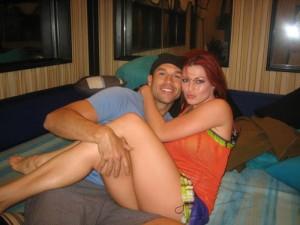 Follow The Apprentice alum Jenn Hoffman, reality star turned-reality reporter on her adventures in Hollywood. She'll dish on all the gossip, rumors, events, sightings and other craziness in the reality TV world. Forget the A-list — this is all about the R(eality)- list!
Big Brother star Rachel Reilly breaks her silence and speaks exclusively to OK! Magazine's "R- List" column about the cheating rumors, her feelings and the ultimate betrayal by her fiancé, BB12 co-star Brendon Villegas.
Article continues below advertisement
As a reality television reporter, I see a lot of crazy stuff. Lies, cheating, fighting, backstabbing and all the other basic shenanigans that happen when you turn a video camera on a bunch of crazy people. Let's face it: Most reality TV participants are nuts.
OK! BLOG: THE "R" LIST — CHATTING WITH MARRIED TO ROCK STARS PERRY & ETTY FARRELL
However, sometimes you get thrown a reality TV curveball that you do not see coming. Skype sex! Blackmail! Aliases! Betrayal! I was shocked when I logged into Twitter on Monday and watched the demise of one of reality TVs most notorious couples unfolding right in front of my eyes. I was so sad because I realized this public humiliation was happening to one of my friends. I felt really bad for Rachel and privately texted her my thoughts and best wishes. At the time I had no intention of interviewing Rachel or Brendon for OK! Magazine. It was a private matter.
Article continues below advertisement
OK! BLOG: THE "R" LIST — REALITY BASH 2010 APPROACHES!
I got on a private Skype call with Rachel to find out the truth. In our phone call Rachel breaks her silence.
When we first discussed doing an interview for The R List, the first thing Rachel makes clear is she doesn't want to speak to the press. She already has been contacted by countless TV reporters, radio stations and online outlets and says she has no interest in publicly addressing the situation. It was only after we both went online and saw all the crazy rumors, silly misconceptions and outright outlandish theories that Rachel decided it would be best to address this issue one time and exclusively speak to OK! Magazine, simply to clear up the gossip. I'm grateful to Rachel for opening up to me. Keep in mind: This is not a Heidi and Spencer style publicity stunt. The feelings and the people involved in this are real.
• In our Skype convo Rachel seems upset, but strong.
• She tells me about the Twitter messages with Molly Shephard and goes into specifics about what happened. We discuss what she was feeling as a total stranger revealed the intimate details of a Facebook flirtation followed by Skype sex sessions with the love of her life, Brendon.
• Rachel STILL doesn't fully know what happened, who Brendon cheated with or when. This "Molly" chick stopped responding to her, so she can only go on what Brendon tells her is the truth now.
Article continues below advertisement
• Rachel claims she has not watched Brendon's apology, but later admits to peeping parts of the video.
• Surprisingly, she defends Brendon and says they are working on their relationship.
• She goes as far as to suggest he was "seduced" by predatory women who were just seeking money and fame.
• Rachel is in Vegas and is not sure when she will see Brendon next.
• During our call, Rachel sends a stern message to the girls who Skyped with Brendon
OK! BLOG: THE "R" LIST — CELEBRITY APPRENTICE — ALL A BIG SET-UP?
Rachel sounds very much like a girl who is still in love with Brendon, and despite learning of his indiscretions she plans on sticking by "her man" no matter what. Personally I think she just isn't ready to let go of all the plans she created for them in her mind. It's hard to let go of your perfect future.
It worries me that she is forgiving Brendon so quickly, but Rachel is a strong girl and frankly, it's none of my business. Or yours. But we'll talk about it anyway, won't we?