NEWS
The "R" List: Chatting With 'Married to Rock' Stars Perry & Etty Farrell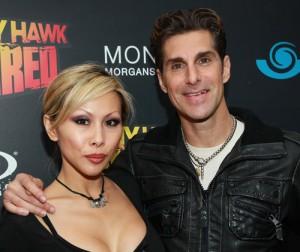 Follow The Apprentice alum Jenn Hoffman, reality star turned-reality reporter on her adventures in Hollywood. She'll dish on all the gossip, rumors, events, sightings and other craziness in the reality TV world. Forget the A-list — this is all about the R(eality)- list!
I'll never forget my first Jane's Addiction album. I was in elementary school but already developed a real interest in rock music at a very young age.
Article continues below advertisement
All I wanted for Christmas was Ritual de lo Habitual. I begged my mom for the tape (yes the TAPE, there were no CDs back then) but she was hesitant because it carried the dreaded "Parental Advisory: Explicit Lyrics" label. Damn you, Tipper Gore.
OK! BLOG: THE "R" LIST — REAL HOUSEWIVES OF BEVERLY HILLS DRAMA BEGINS!
Dejected as Ralphie Parker was over his Red Ryder BB Gun, I accepted my fate. But on Christmas morning when I reached into my stocking, sure enough, there it was: A Jane's Addiction album, complete with the original uncensored album cover and all! Thanks Mom!
Fast forward 20 years later and Perry Farrell is still going strong. He is still making music, still performing and is now part of a new reality show on E!, Married to Rock. I caught up with Perry and his adorable wife Etty at the Lotus car launch event in Beverly Hills. Since the show focuses more on Etty than Perry, I got the inside scoop on what it's like for Perry to now be part of his wife's newfound fame.
Article continues below advertisement
OK! BLOG: THE "R" LIST — REALITY BASH 2010 APPROACHES!
You are on Married to Rock together. How do you as a couple handle this new fame as a couple? I mean Perry, you used to be the famous one for your music but now you are famous as a couple. It that different?
Etty: I think we handle it just fine because the show really shows us. Our real lives. We're not putting on a show.
Perry: Well, all we are is putting on a show.
Etty: Well, no. At home when they show us having breakfast at the Ritz we're not like "let's order this for TV." We just do what we would be doing.
I get it. It sounds like you are saying you are naturally like this, and interesting. So with or without cameras you are naturally always putting on a show.
Perry: Yeah. It's easy.
So what's your favorite part of being a couple?
Etty: To have somebody that loves you and to be completely supportive of you in the best of times and the worst of times. And besides the weather is changing. It's nice to have someone who you can stick your cold feet up against at night.
Article continues below advertisement
Perry: That's for sure. I'm always right next to someone who so I'm so attracted to and so in love with. I always get that feeling of love and it gets reciprocated like that. And also I can always bounce anything off of her and know I'll always get a really great answer because she's very smart aside from being beautiful. She gives me courage and all that.
OK! BLOG: THE "R" LIST — CELEBRITY APPRENTICE — ALL A BIG SET-UP?
Aww, that's sweet! Who knew rock stars could be so sweet? What sets this show apart from the Real Housewives series?
Etty: I think the first thing that sets it apart is because our husbands are already well known musicians. The Real Housewives might not understand the whole public life they're thrust into but we're kind of used to it. This is something we've always been a part of but in the background. So in that regard it's not like a housewives show.
Article continues below advertisement
What are some surprises we can expect? I mean I know you can't reveal anything but throw me a bone here.
Etty: Some surprises, you know, the one surprise is that there are no catfights. When you have four women who work together, clearly there's gonna be a little bit of cattiness but I d think that a rock wives it's such a small group, and there are so many people trying to take you down or tear you apart that you feel more powerful and secure as a group. We need each other more as friends.
It's like why fight each other when there are already outside forces you have to fight off?
Etty: Exactly.
Do you have any holiday traditions as family?
Perry: Our one holiday tradition is you wait for the holidays to over then go to Hawaii.
Where do you go?
Perry: We can't say.
Etty: We can say we go to Maui!
So many stalkers so little time! I guess it could be dangerous to say where you go. But okay, I'll let you keep a few secrets. For now. I'll stop bothering you and let you enjoy the party.
Perry: You are not bothering us. Thank you.
Keep it real!
Jenn