NEWS
The 'R' List: New Shows Attempt to Cash in on Ethnic Themes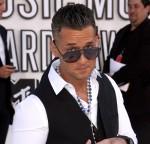 Follow The Apprentice alum Jenn Hoffman, reality star turned-reality reporter on her adventures in Hollywood. She'll dish on all the gossip, rumors, events, sightings and other craziness in the reality TV world. Forget the A-list — this is all about the R(eality)- list!
Are we upset that The Situation is off Dancing With the Stars? Mike "The Situation" Sorrentino couldn't have been too worried about his performance Monday night because he was seen out and about with his crew at the Hollywood hot spot Ketchup.
Article continues below advertisement
His group was DTE (Down to Eat) and was seen munching on Ketchup's tasty mini tacos, calamari, ribeye and shrimp pasta. The Situation must have been at least a little worried about the DWTS results, because instead of his usua craziness he simply ordered the sea bass and sipped on Diet Coke. Sad. We like it when cast members of The Jersey Shore take shots, fist pump, then fall down.
OK! BLOG: THE "R" LIST — COULD BRIDGE AND TUNNEL CHALLENGE JERSEY SHORE?
What's the newest trend in reality TV? Taking a cue from the "Guido" theme many production companies are trying to cast shows with an "ethnic" theme. I've spied castings for everything from "Russian Chicagoans" to "Jewish American Princesses rocking Long Island" to "Koreans who keep it real." Yes, these are actual phrases used in real casting notices posted on the internet. So which one of these roots based shows will actually come to fruition? We'll have to see how networks balance the idea of poking fun at stereotypes versus outright offensiveness. Then again, isn't all reality TV a bit offensive?
Article continues below advertisement
OK! BLOG: THE "R" LIST — PARIS; RICK FOX & STACY KEIBLER DISH ON DWTS
If you're being paid to host a high profile event for a designer clothing label, wouldn't you at least put a little effort into your appearance? Jillian Michaels didn't seem to think that was important Wednesday night at the GUESS & Marie Claire Magazine Charity T-Shirt Launch Event in Hollywood. Reporters who requested on camera interviews with the Biggest Loser trainer were denied because Jillian "wasn't wearing any makeup" that evening. I have to admit Jillian still looked pretty good even sans maquillage. Maybe eating healthy and exercising daily does have merit after all.