NEWS
R-Patts Celebrates His Birthday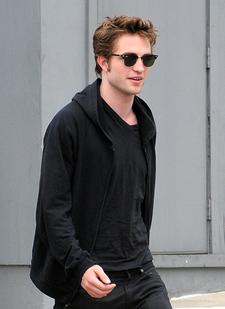 Even though super shy Robert Pattinson already has Twilight devotees breathing down his neck all the time, and even though it was his 23rd birthday, the New Moon star still took the time to pose for a few pictures with fans while out celebrating last night.
R-Patts went out in Vancouver, BC, hitting up the Global Grill with his co-stars and pals. After leaving the cast's favorite new haunt, Robert made more than a few lucky fans' days by stopping to take some pictures.
Article continues below advertisement
Ashley Greene, Kristen Stewart and others were among the revelers who came out to celebrate with their pal Rob in the rain.
YOU SAY IT'S ROB'S BIRTHDAY:
<a href="http://www.okmagazine.com/pixandvids/gallery/14159/1" target="_blank"><img src="https://d-images.okmagazine.com/img/photos/large/28755.gif" height="100"/></a> <a href="http://www.okmagazine.com/pixandvids/gallery/14159/2" target="_blank"><img src="https://d-images.okmagazine.com/img/photos/large/28754.gif" height="100"/></a> <a href="http://www.okmagazine.com/pixandvids/gallery/14159/3" target="_blank"><img src="https://d-images.okmagazine.com/img/photos/large/28753.gif" height="100"/></a> <a href="http://www.okmagazine.com/pixandvids/gallery/14159/4" target="_blank"><img src="https://d-images.okmagazine.com/img/photos/large/28752.gif" height="100"/></a>