NEWS
Rachel Zoe Gives Birth to Baby Skyler on 'The Rachel Zoe Project'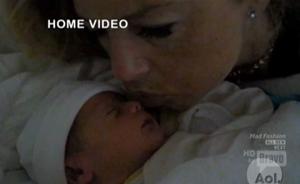 Rachel Zoe's son Skyler is already nearly seven months old, but on last night's episode of The Rachel Zoe Project, he made his first TV appearance!
After Rachel's water broke, she was in a mad race to fix her hair and get gorgeous to go deliver her baby boy.
Husband Rodger Berman caught the rather hilarious moment on home video, but Rachel was not camera-ready.
"She's in a lot of pain. Say hello to your new child," Rodger says holding the camera.
Article continues below advertisement
"Shh," Rachel says. "I'm in so much pain…. Out of my face!"
"I honestly want to kill my husband right now," Rachel tells the Bravo cameras. "And get the f*** out of my face."
But it all ended happily with the family driving their son Skyler home!
"I've never loved anything like this in my life… and he hasn't even spoken yet," Rachel says.
Watch the clip, below!