NEWS
Ramiele Ditches Danny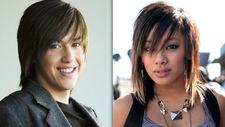 Nothing seems to be going right for poor Danny Noriega.
First the Idol reject was told that he isn't welcome at the finale, and now it seems that his dream of moving in with his "best friend" and fellow former Idol Ramiele Malubay have been dashed as well.
The two became inseparable on the show, and once they were evicted they told everyone they couldn't wait to start sharing a house in L.A. together.
Article continues below advertisement
When Ramiele got the boot in early in April, a month after Danny, 18, they were even telling interviewers how they were going decorate the place.
But now Filipino finalist Ramiele has said that she is living with her uncle in the Fullerton area of the city instead and that their plans to shack up are, "not gonna happen"!
The 20-year-old singer, who will be joining the Idol Live summer tour from July until September, made the revelation to the Philippine Post newspaper.
"Asked if she still plans to move in with former co-contestant Danny Noriega," the paper reported, "Ramiele said tersely, 'Not gonna happen.'"
As if that wasn't enough, last week Idol staff told Danny, who was booted after a badly received rendition of Soft Cell's Tainted Love, that he wouldn't be able to come to the finale this Wednesday because it is "full".
In a furious live video feed on the Stickam Web site, he said that he had expected to be invited to the grand finale, but ended up having to "beg" four Idol staffers for tickets -- only to be told the audience was full.
"I don't see how that's cool," Danny said on in the video, "that they don't invite the Top 24 back on the finale.
"It's a finale; it's when we're all supposed to reunite!," he moaned, before concluding that, "Idol are full of s*** and they're liars!".