NEWS
'Real Housewives of Beverly Hills' Recap: Getting to Know Yolanda H. Foster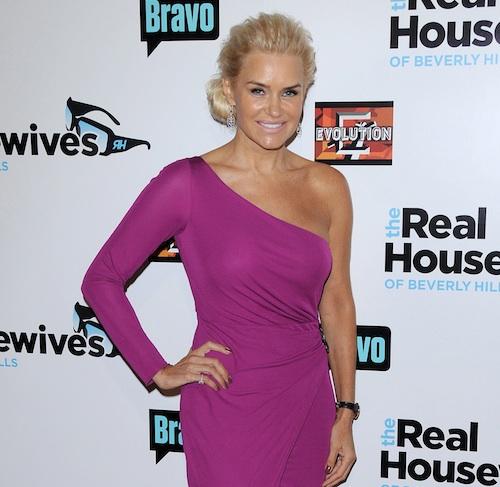 Article continues below advertisement
A former model, born and raised in the Netherlands, she was once married to mega developer, Mohamed Hadid, and now shares a palatial Malibu mansion with her new hubby, Grammy award-winning songwriter, David Foster.
Yolanda brings something exotic to the Bravo family, she's a fresh spice for the palette — all composure and perfectly coiffed white blonde hair, a light accent with piercing blue eyes and freshly ironed button down shirts.
But just who is Yolanda Foster?
Last night we were whisked away to Yolanda and David's fairy tale estate while she preps for a big housewife dinner party. Here's what we gleaned from a few select quotes, straight from her own mouth.
Quote #1: "I'm not just a little OCD, I'm a lot OCD"
Yolanda makes this aside to Kyle Richards while the ladies are marveling at her color-coordinated fridge. Entertaining isn't just inviting housewives over and putting a bottle of Pinot and cheese on the table. Rather we're drawn into Yolanda's world of perfection as she rifles through flowers, orders rare tulips from the Netherlands, jokes about seating people in order of height, conferences with her butler about watermelon salads and how she's a long lost relative of Martha Stewart. "If it's not all lined up and looking pretty, I can't be in it," she says.
Article continues below advertisement
Quote #2: "I drew every inch of the house and it killed my brain."
Don't be fooled, beneath her sculpted physique is a budding architect who claims to have worked with 100 workman on the construction and execution of her 12, 000 square foot abode. She planted 50 lemon trees in her garden, not realizing this would leave her with "hundreds" of lemons to sort through on any given day, which is way more lemonade, lemon meringue pie or lemon garnishes than any reasonable person could ever want or need. While the mansion clearly boasts guest rooms and parlor rooms and game rooms and all sorts of spaces, she flatly tells the camera they really only hang in "the kitchen the family room...the rest of of the house we never use."
OK! GALLERY: TERESA GIUDICE, CAMILLE GRAMMER AND OUR LIST OF REAL HOUSEWIFE VILLAINS
Quote #4: "There's nothing more ugly than a drunk women."
Yolanda probably has better things to do than watch old Real Housewives reruns, but it may have behooved her to do so before signing on — the franchise practically runs on a steady supply of wine and fancy cocktails. After a few glasses of white whine Taylor Armstrong gets a little silly and starts bashing Brandi Glanville, her "arch enemy." What follows is normal housewives fare — a few jabs here, a few laughs at another woman's expense, there — but Yolanda is not amused, especially seeing as Taylor is seated next to Chris Botti, "the most famous trumpet player in the world."
Article continues below advertisement
"Her behavior was completely inappropriate." (ed note: let's breath a sigh of relief Kim Richards cleaned up this season).
Quote #5: "Shut up. Don't speak. My husband is at the piano"
Yolanda will gladly invite you into her home and stuff you with organic, fancy nibbles and pricey wine, but just keep your mouth shut while David hits the piano. Taylor and some of the other ladies made the grave mistake of talking while he was seated and tinkering away, which caused Yolanda to sneer about their rudeness. Shortly after Taylor ask they not play funeral songs (seeing as she's recently widowed) Yolanda thanked everyone for their time and ushered them out the door.