NEWS
Red Carpet Confidential: Corey Feldman Opens Up About Life Without Corey Haim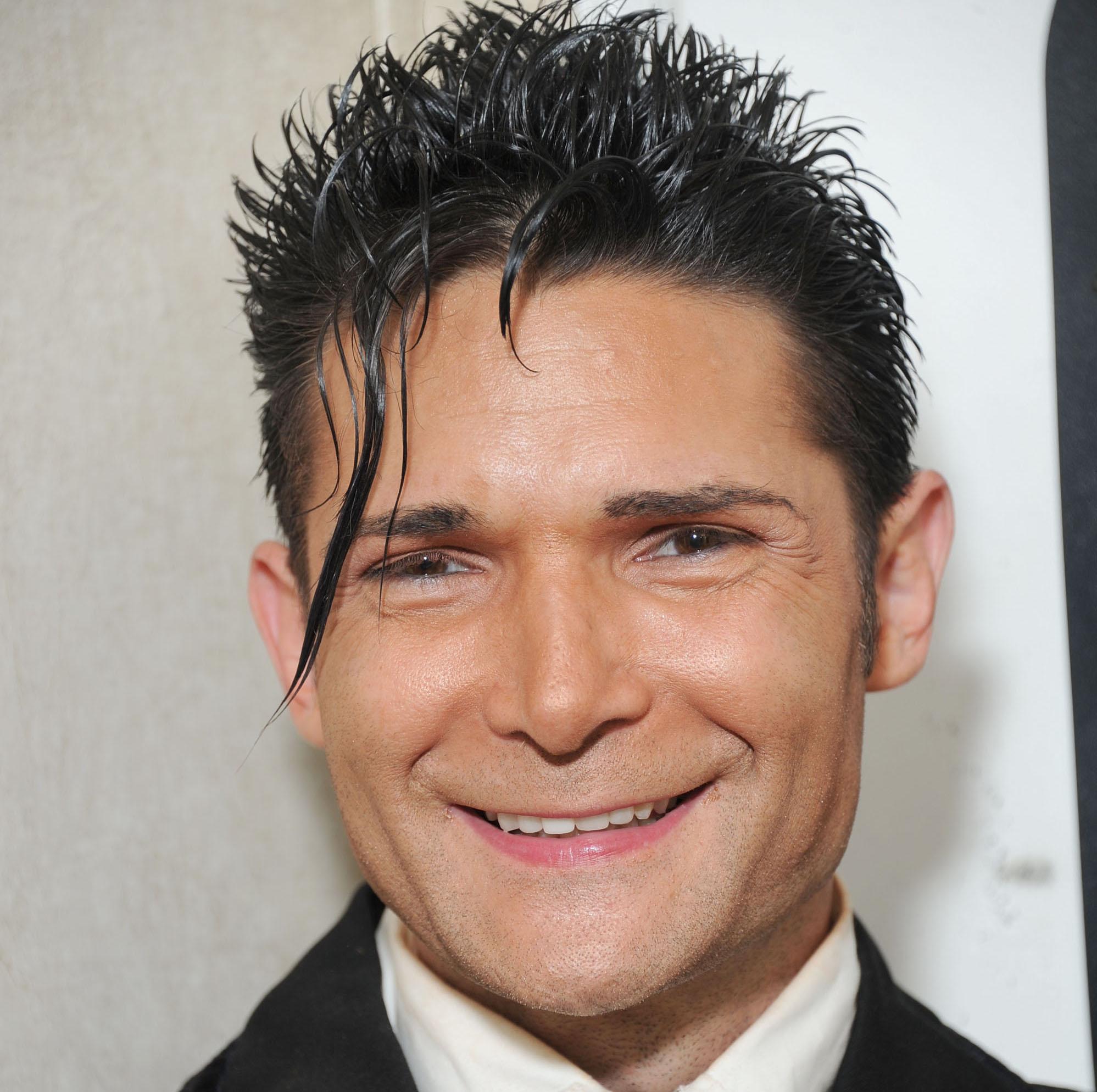 When Corey Feldman celebrated his 41st birthday this week with a Street Food Cinema bash at L.A.'s Exposition Park
complete with 25th Anniversary screening of the Lost Boys and a performance by his band, Corey Feldman and Truth Movement, there was someone missing.
That person was his acting partner, Corey Haim, who died at 38 of pneumonia and a heart condition in 2010. The duo starred in a string of 1980s box-office hits including Lost Boys, License to Drive and Dream A Little Dream. They were constant companions, even filming the reality show The Two Coreys together in 2007-2008.
Article continues below advertisement
"I would've never thought in a million years that I would be here celebrating in a public way with thousands of people, the anniversary of that film. When we were working on that movie, I never would've thought 'oh my God, so many people are going to go out the door and remember this film for generations to come and we'll all be celebrating it at a park.'"
He adds, "The craziest thing about is is that I definitely didn't think that I would be doing it without Corey. It's very surreal to me that I'm still here, and I still feel great — I feel like a kid. And yet, the person who is younger than me, who is my partner in crime so to speak, and certainly my acting partner, is not here to celebrate it with us, so it's very bittersweet. Anytime there's anything to do with the Lost Boys, it's very bittersweet."
OK! BLOGS: RED CARPET CONFIDENTIAL: DEBBIE GIBSON READY TO JUDGE AMERICAN IDOL
Without him, life will never be the same.
"It's hard. It's sad. It's hard to explain, but there hasn't been a day that goes by when I haven't missed him. I think about him still on a daily basis and wish he were here with me. There are so many times when I'm coming up with ideas or a really funny joke or a situation crosses my mind, and I go, 'man, I've got to call Corey about this.' Or 'this would be great if we could do this.' Or I think of a movie idea and go 'man, this would be perfect for us.' But there's no 'us' — there's no way to do that."
Article continues below advertisement
He adds, "People have asked me to do one of the sequels to License To Drive, and I'm like 'what do you mean? It's over, it's done, he's gone.' That's hard for me to wrap my head around sometimes. It doesn't feel like reality. It feels like in some alternate universe, he's still here with me."
One way he hopes to preserve his memory is by raising money to get him a star on the Walk of Fame.
"We're putting together this very nice campaign to try to get Corey Haim a star on the Walk of Fame. If you go on Twitter, it's @corey_feldman, and if people tweet or follow me, they'll see hundreds of fans who are so dedicated and so beautiful and so lovely and they spend day after day petitioning and putting things out there for Corey Haim to get a star, so I'm helping them. We're putting together fundraisers for that now."
OK! BLOGS: RED CARPET CONFIDENTIAL: TEEN IDOL REFLECTS ON HIS JUSTIN BIEBER DAYS
Another way he copes is by staying clear of hard drugs and alcohol.
"I just don't like it," he says. "It's not like 'oh my God, I can't.' If I wanted to have a drink, I could. I just choose not to because I don't like it. If I wanted to do drugs, I guess I could do drugs, but I don't like drugs. They ruin people's lives, so I don't see the reason to do them. I take medication that's prescribed, if necessary, like I have a torn tendon in my shoulder from competing in Dancing On Ice in the UK earlier this year."
Article continues below advertisement
He adds, "I had to work very, very hard, and dedicate myself incredibly to learn how to be a world class figure skater overnight. Five months of training every day while I was shooting three other films — that was difficult. laughs As a result, I injured myself very badly, and I've had to be on pain medication. So I have been on various medications for the past few months, and it's not pleasant. I don't enjoy that, especially when you're someone who prides himself on being very clear. That said, I've adjusted to it, and now I'm getting steroid injections in my shoulder. I'm hoping I can avoid a surgery, but you do what you've got to do."
According to Corey, he hasn't done cocaine in more than 20 years, and thinks people who do it are "disgusting."
He calls beating his vices his greatest struggle.
"Overcoming addictions of any kind is the toughest challenge," he says. "Getting through to the other side, thinking positive. Thinking positive is probably the biggest challenge we have in life, because there's so much negative energy thrown at us on a daily basis. Every time you turn around, especially as an actor in my situation, going through what I've been through. You have to understand – not that I chose my life, because I didn't – it was chosen for me. I was famous before I knew my own name, so I didn't go 'hey, I'm going to go be a famous person.' I woke up one day and realized this is my life, and this is who I am. I just have to fight this fight, because that's what's been placed in front of me. Knowing that, and coming to that realization as a very young child, with abusive parents, with abusive school, with all these different things I had going against me, there was a lot of negative energy in most of my childhood, and most of my teen life as well, with people doing very, very, very inappropriate things towards me, and then, when I was old enough to really realize who I was and what it was that I wanted out of life, I now had to re-prove myself for the mistakes that I made because I was put into situations I shouldn't have been put in. I will say that most of my life, or most of my life's problems, were not my fault or responsibility. However, that said, when I became aware of them, and I made myself responsible for those situations, once that came to dawn, I made every choice and every option I could, to try and restore the damage in my life."
Article continues below advertisement
He adds, "I've been through a lot, and I feel like the hardest obstacle in life is negative energy. If you continue to stay positive and thinking about the future, thinking about what you want to do next, staying happy, showing people that it can get better no matter how dark it is – those are the things I think about. Those are the things that make me feel like I've accomplished something because I've made it through. The fact that my life is as good as it is right now, I have people in my life who I care about and I love, and most importantly that I get to be with my child – it doesn't hurt that I've got lots of friends and beautiful girls who love to help me. I have a really good life. laughs I have no complaints."
How did he do it?
"Number one is faith in God," he says. "I'm not a religious person, but I am a spiritual person, and I know that I couldn't have done it without faith and without God's help. Number two is positive energy. Both of those things go hand-in-hand. I'm a positive person, and at the end of the day, no matter how much negative energy has been thrown at me, or just terrible situations – from abuse to being stolen from, lied to, talked terribly about. I mean, they've said the worst things about me. The industry people, people are jealous of me, people are my competitors, people go up against me – everybody wants to hate. Everybody wants to say something negative. I think my greatest tool and asset is that I'm able to just deflect it. It just jumps right off of me. Kind of like when you're a kid, and they go 'I'm rubber, you're glue, whatever I say bounces off me, and sticks onto you.' That's me. That's my life. laughs You can keep talking badly about me, but I'll keep on rising above it as long as I believe in myself because belief is the most powerful tool that any of us have. If you have belief in your heart that you can stay positive; if you have belief in your heart that you can change things for the better no matter how dark times get, it doesn't matter, because they can always get better. Every day that you wake up and you're alive is a chance to fix it."
Article continues below advertisement
He adds, "That's what makes me so sad about Corey is that he was so young and had so many opportunities is that he was so young and so many opportunities still to fix it, and I feel so sad that it was chosen that he had to be taken away at such a young age, before he had time to restore all the damage. If there's anything that I can put out there, I want to tell people to 'please, take the opportunity – every day that you're alive – to try and make things better, because it's never too late to make your life better, to improve you. Every day that you're here is a chance to improve.'"
OK! BLOGS: RED CARPET CONFIDENTIAL: KIRK CAMERON IS 'STILL GROWING'
Son Zen, 7, whose mom is ex-wife Susie Feldman, is lucky to have such a positive role model.
"My proudest moment is every day when I wake up and see what good shape my kid is in," he says with a laugh. "That's my proudest achievement. Knowing that he's almost eight years old, and he has a really normal head. It's well-balanced. He's got an incredible disposition, he's so perfectly mannered and polite, great morality. All those things that I know that me and my ex-wife have influenced him with, and helped create him as the person that he is today, and knowing that he is a good person and that we're doing our job right – that is the best redemption that you can ask for."
Corey has five films in the works, plus a book, an album and he has even recorded a song with Fred Durst. In addition, he heads up the social-networking initiative Corey's Angels.