NEWS
Red Carpet Confidential: Does Nick Carter Ever Feel Competitive With Former Boy Band Rival, Justin Timberlake?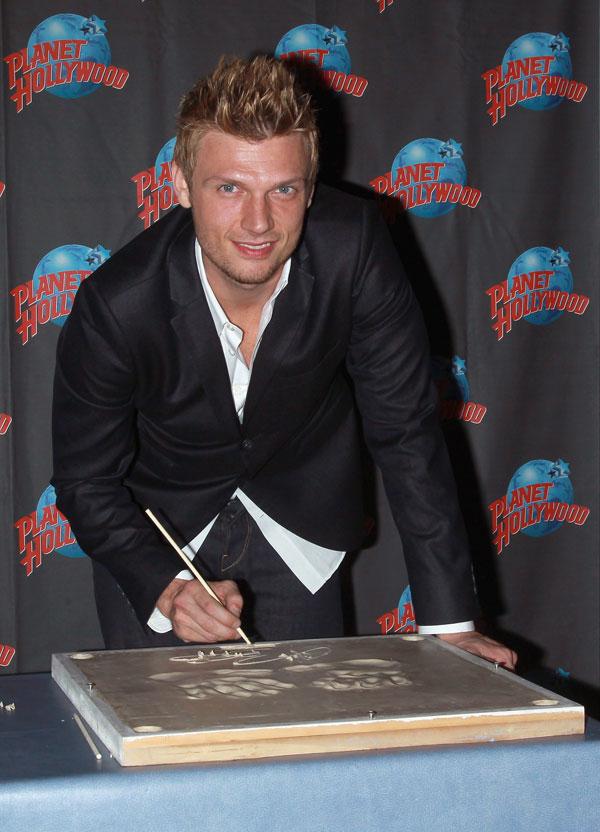 Dueling boy bands *NSYNC and Backstreet Boys competed on the charts and in the hearts of ladies around the world in the late 1990s and early 2000s.
Flash forward to now, and *NSYNC frontman Justin Timberlake is set to release the thriller Runner Runner with Ben Affleck the same week as he issues his fourth album The 20/20 Experience Part 2 of 2. He's married to Jessica Biel, and he's won Grammys and Emmys.
Article continues below advertisement
Photos: Hot Pics of Nick Carter at his Book Signing
Meanwhile, Backstreet Boys frontman Nick Carter has released his memoir, Facing The Music And Living To Talk About It, which details his drug addiction and dysfunctional family, this week. Engaged to fitness trainer Lauren Kitt, the band still tours together, but Nick's solo efforts flopped—the first, just one week before Justin's boy band breakout debut album soared.
So, does Nick ever feel competitive with Justin?
"Not really," Nick, 33, tells me Tuesday when we are seated upstairs at Bucca di Beppo moments before he takes the stage for his Handprint Ceremony at Planet Hollywood Times Square. "They're two different life paths and courses. My cards have been dealt a certain way. I've embraced the person I am, I love who I am, and when it comes to music, he's talented, he's a great actor."
Article continues below advertisement
Watch: Stream Justin Timberlake's Entire Set from Jimmy Kimmel Live
He continues, "I've always felt as if, for me, it's better to not have jealousy necessarily, and really wish people the best in their lives and in whatever they do. That way I'm not doing things for the wrong reasons. I do have aspirations to do some of the things that he's doing, but I'm happy for him. I'm proud of him. It's good."
What would Nick tell today's transitioning teen idols like Miley Cyrus, Justin Bieber and One Direction?
"Being in that situation, teenagers and young people don't want to listen to you," he says. "They want to experience life themselves, and they want to learn on their own. I think that's each individual's God-given right. Just enjoy it, have fun. Respect people on the way up, because if you want to be in this industry for a long time, you have to make sure you don't burn any bridges."
Article continues below advertisement
Poll: Vote for Miley Cyrus as Best New Song of the Week
If he could go back in time, he'd do things differently.
"I wish I knew that if I did have a problem, that I could talk to someone else outside of my family, because when you're in a family, a lot of times everybody likes to keep everything under the rug and likes to hide everything."
He continues, "If there are issues and problems going on, the best thing for you is to open up to a counselor, to someone, a friend, and get those things off your chest. If you don't do that, then you hold them in for a long time in your life, and they start to fester and turn into some of the issues that I have been dealing with."
Thanks for the advice (and the pic), Nick!