NEWS
Red Carpet Confidential: How The Trumps Do Christmas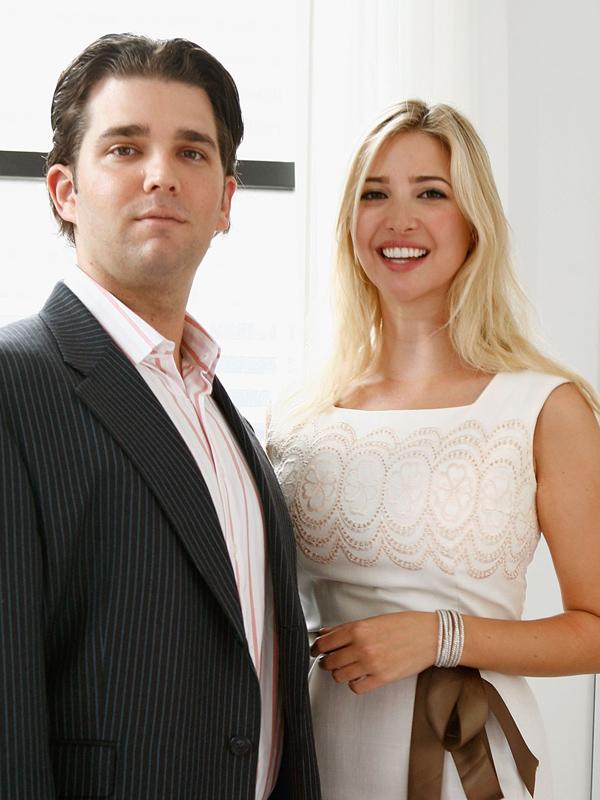 For Celebrity Apprentice stars Ivanka Trump and brother Donald Trump Jr., the focus is on family this Christmas.
"It's about making the time to be together as a family," married mom Ivanka, 31, tells me during a GLAD/Cookies For Kids' Cancer event in NYC. "It's about spirit. Come the 24th, everyone's priority is on their family. Not only do you get to relax, but everyone around you does, too, which makes it easier to relax. laughs"
Article continues below advertisement
Seeing her play is a highlight.
"Oh, it's the best. She's at the age where she plays by herself, and you just have fun watching. It's amazing to see how her thought processes are developing, and she's learning shapes and learning numbers. It's really cool."
This year, Donald, 34, will stay at home in NYC with his brood, which includes wife Vanessa, daughter Kai, 5, and sons Donald III, 3, Tristan, 14 months, and Spencer, two months.
Article continues below advertisement
He enjoys cooking with his family, and keeping the celebration as small as possible.
"Because we have a two-month-old, we're just basically sticking around New York," he tells me during Z100's Jingle Ball Presented By Aeropostale at Madison Square Garden in NYC. "It's a little too much to travel. Normally we'd go down to Florida with the family, but it's a little too young for the baby to be traveling yet, so we're going to stick around here."
OK! GALLERY: EMMA ROBERTS, HILARY DUFF AND MORE CELEBS HIT BEVERLY HILLS HALLOWEEN PARTY
Still, he hasn't missed out on the fun of the holiday season.
"We always go and cut down our own Christmas tree," he says. "I think it's just getting in the routine of doing something that you can look back on."
Plus, they make sure to take a family portrait each year during the experience.
"We do it ourselves," he explains. "As we're cutting down the tree, everybody's pretty casual in the middle of the woods. It's fun. You have that picture that you get, and you watch everyone change from one year to the next, and it's just sort of exciting. We've been doing it for years now, and as the family gets bigger, the picture changes, and it's just a lot of fun to watch that grow."
Article continues below advertisement