NEWS
Red Carpet Confidential: Ivanka Trump's Husband Never Changes Diapers?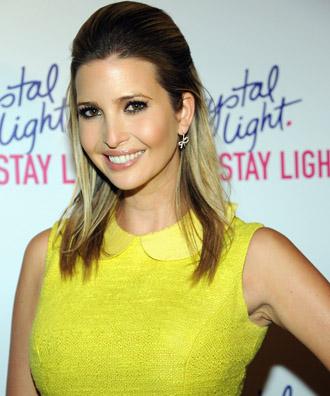 Like father, like husband?
Ivanka Trump's hubby Jared Kushner is following in his father-in-law's footsteps in the diaper-changing department.
Donald admitted he "didn't remember ever" changing a diaper after son Barron was born in 2006, and Jared is taking the same tact with their 8-month-old daughter Arabella.
"Oh, he's phenomenal as a dad," the Celebrity Apprentice star, 30, tells me Tuesday at the Crystal Light Peach Bellini and Pomtini Mocktail launch held at Trump SoHo Hotel in NYC.
Article continues below advertisement
For busy Ivanka, who wed the New York Observer owner in 2009, being a hands-on mom means everything.
"It's unbelievable," she gushes. "I think it's so much more rewarding and fulfilling than I ever could have anticipated, paired with the fact that it's much more work. It's much more chaos. I read tons of baby books, every baby book, about schedule, this and that, so I go 'great, schedule!' And I sit down and schedule. And then sometimes schedule doesn't work, or she gets hungry 15 minutes earlier, when it was the plan to run home to give her the bottle, and then run back to the office. Life is a little less organized, but it's all very worth it."
Article continues below advertisement
One quality about little Arabella makes Ivanka's heart melt.
"I love her laugh," she says. "I can't even imitate the sound. It's very foreign. It's this high-pitched, joyous squeal that's so pure and innocent, and I make a tremendous fool of myself trying to evoke that laughter. You have to hear it. Pretty much every day my husband walks in, and I'm with her in the nursery, holding up my iPhone videotaping her as I'm jumping out from behind the wall, trying to capture the laugh to send around to my in-laws. I'm probably a little less serious thanks to her."
Article continues below advertisement
Inside the cocktail party, Ivanka mingles with Celebrity Apprentice castmates Debbie Gibson, Aubrey O'Day and Dayana Mendoza, who appeared in an episode promoting the new Crystal Light flavors.
"I had a baby right before we started filming, so I now look back and watch myself in high-definition," she tells the crowd. "We started 2 ½ months after I'd given birth, so I truly appreciate a five-calorie drink that tastes like an 1,000 calorie variety. We were very excited to have Crystal Light, the Pomtini and the Peach Bellini represented on The Apprentice, and it was a terrific episode."
Take it from me: the Peach Bellini is delish. Mmm!
Catch Ivanka on Celebrity Apprentice, which airs Sundays at 9 p.m. ET on NBC.