NEWS
Red Carpet Confidential: Justin Bieber Makes Pawn Stars' Rick Harrison a Dream Stepdad-to-Be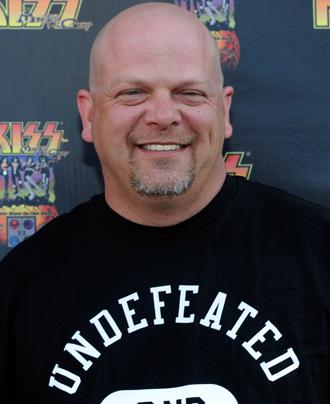 After Pawn Stars "spotter" Rick Harrison popped the question to girlfriend Deanna Burditt last month, he decided he'd take time getting to know her and her three daughters before moving forward with wedding plans.
"We just moved in with each other and we want to make sure we can still live with each other," he tells me. "We'll see if she can live with me."
He continues, "I work all the time and I generally have this problem where I walk through the front door, leave my shoes on the ground, throw my keys on the counter – basically, I'm not the most organized guy in the world. And she's completely organized. She works in law – everything is perfect."
Article continues below advertisement
OK! NEWS: RED CARPET CONFIDENTIAL: CARRIE ANN INABA SAYS DANCING WITH THE STARS MADE HER FEEL 'EMPTY'
So far, the biggest adjustment the twice-divorced father of three sons has made is dealing with the emotions of girls.
"I didn't have sisters or a daughter, so it's still a transition getting into girls," he confesses. "They talk a lot. Generally, boys just grunt a little bit. They can talk! laughs It doesn't drive me crazy, but it just makes me laugh. I grew up with a brother and I never had sisters. I've got to wear pajamas if I walk out of the bedroom. And before, I never really had to do that."
Deanna's daughters are 16, 10 and 8, and have enjoyed perks thanks to their stepfather-to-be.
"I took them to see Justin Bieber," Rick says. "They got to meet him and I completely couldn't understand why they were acting like they were going to pee themselves! laughs They were ecstatic. They were jumping up and down. I was like, 'Really? It's just a guy!'"
OK! NEWS: RED CARPET CONFIDENTIAL: WHY BIGGEST LOSER HOST ALISON SWEENEY SHUNS FAST FOOD
Article continues below advertisement
How did they meet Justin?
"They donated some money to a charity and they must've raised the biggest amount of money, so they got to meet him. And it was great – I've never been around girls, so all these girls in this room were going insane because Justin Bieber was going to show up. It was definitely an experience."
What does he think of Justin?
"I guess he's a good singer and everything. If it's not country- then I don't know! I listen to country music and good ol' rock n' roll."
In contrast, his son Corey, 30, was on hand when the couple met for the first time at Aureole at Mandalay Bay in Las Vegas. Turns out, she didn't even know he was famous, despite the 6.5 million viewers that watch each week!
"When I met Deanna, I met her at a restaurant and I was talking to her and he gets up and tries to blow everything in the world for me. He walks up and says, "Hey, are you going to be my new mommy?" laughs But she still went out with me on a second date."
Article continues below advertisement
OK! NEWS: RED CARPET CONFIDENTIAL: JAKE PAVELKA'S ADVICE FOR BACHELOR BEN FLAJNIK
Flash forward one year later, and they're building a future together. They're considering May 2013 for their nuptials.
Still, Rick and Deanna, 36, don't plan to expand their Brady Bunch-style brood.
"I'm 47 years old and I'm not going to have kids in college when I'm getting social security," he says. "I want to be around when they're in their forties if they need a little help. So no more for me. We're done. We agree on that whole thing. We're fine ten years from now watching the sun set somewhere and not having to worry about babysitters or leaving the house."
Pick up Reality Weekly on newsstands now for more on Pawn Stars "spotter" Rick Harrison. The cover line is: "Teen Mom Bombshells: After The Finale: Who's Quitting." And catch Pawn Stars, which airs Mondays at 10 p.m. ET on History Channel.