NEWS
Red Carpet Confidential: Kelly Bensimon Gets Hot In 20 Minutes Per Day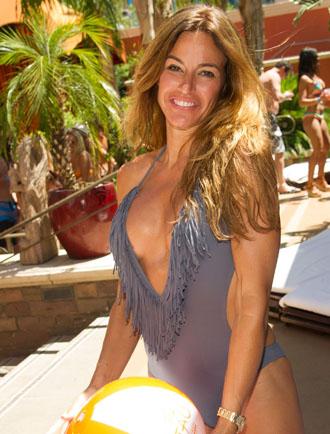 Life after The Real Housewives of NYC certainly suits Kelly Killoren Bensimon, whose figure looks more enviable than ever.
When I saw her sauntering into the amFar Inspiration Gala in NYC last month wearing a backless gown, I was blown away. She had absolutely no back fat, which is quite a feat considering I've noticed other celebs flaunting their opposite side despite their flab and cellulite.
This week, she hosted Hpnotiq's Camp TAO Beach in Las Vegas, continuing to stun.
Article continues below advertisement
She continues, "Twenty minutes a day – sometimes I'll run 20 minutes, I'll bike 20 minutes, take my kids on a fast walk. Moving your body for 20 minutes. A body in motion stays in motion, so that's my philosophy. I don't believe in overexercising your body — I believe in energizing the machine that you have, just like you wouldn't drive a Ferrari at 80 mph every day. You work it a little bit, and then the one day you really want to let it go, you let it all out, but you don't do it every single day."
Article continues below advertisement
OK! BLOGS: RED CARPET CONFIDENTIAL: BIGGEST LOSER HOST ALISON SWEENEY OFFERS SUMMER SLIMDOWN TIPS
Hmm, what improvements take place with 20 minutes per day?
"When your body's in motion, you're eating better, you're sleeping better, your body asks for more water, so you're more hydrated. When you're eating and sleeping and you're well-rested, you're going to make good decisions and you're not going to want to feel bad. When you're feeling good, you just want to keep on the 'feeling good train,' you don't want to jeopardize that."
Article continues below advertisement
Even fitting in 20 minutes of exercise per day can sometimes be a challenge, so it's important to make it a priority.
"The best tip for maintaining an exercise program is to start with seven days, and then build on that, so you've done seven days, you've done 14 days, all of a sudden you're at a month," she says. "I believe in baby steps, so you start with your breakfast – 'OK, I did a great job on my breakfast,' then you start with your lunch – 'Oh, I did a great job on my lunch,' and then it's day 2, 3, 4, and after 7 days, it's like a milestone. Fourteen days is another milestone. When your body starts to feel really, really good – you don't want to change that. You don't want to stop feeling good."