NEWS
Red Carpet Confidential: Kendra Wilkinson Baskett Carves Out 'Adult' Time With Hubby Hank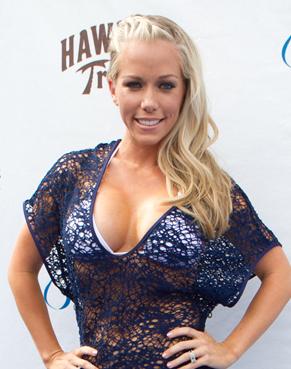 Even though Kendra Wilkinson Baskett is a mom, she still manages to walk on the wild side when it comes to intimacy with hubby Hank, whom she wed in 2009.
"The other day, little Hank was in the living room watching Toy Story," the reality star, 26, tells me after asking brother Colin to leave the room during Diva Fridays at Mohegan Sun in Uncasville, Conn. "We were in there watching it with him, and he was just watching it, not even moving or anything, so Hank and I … he's like 'come in the kitchen!' and I'm like 'Okay,' so we go in the kitchen and we just hit it right there."
Article continues below advertisement
She adds, "That was fun. We have fun being more spontaneous. We're not holding back anymore. We want to have fun, be young. We don't want to be stuck in the bedroom. When we know baby Hank's not watching, he's in the other room doing his thing, you never know, we might have some fun, too. laughs"
OK! NEWS: KENDRA WILKINSON BASKETT TO STAR IN NEW REALITY SHOW: KENDRA ON TOP
Not surprisingly, Kendra and Hank prevent little Hank, 2, from making unwanted appearances in their bedroom.
"That's gross — no way. No way! We would never, ever share a bed with our baby. I'm sorry. Hank and I are adults, we like to be adults, we like to have adult time. He has his bed; we have our bed. That's the way it goes."
Any baby news?
"Well, that will be something I take you through with me on my new WE TV show, Kendra On Top. laughs I laugh about it, like 'maybe you'll get to see Kendra on top making the baby.' laughs I'm totally kidding, but for real, this is the truth that you guys get to go through with me on the spot of having another baby — what my feelings are, what my thoughts are, why I do, why I don't — that's the truth. I'm holding back my feelings until the cameras are on because I want the truth to come out while the cameras are rolling."
Article continues below advertisement
OK! NEWS: KENDRA WILKINSON BASKETT REVEALS HANK JR. IS BILINGUAL & TALKS ABOUT HAVING ANOTHER BABY!
Although Hank is across the country at NASCAR in California while she's appearing at Mohegan Sun in Connecticut, their separation will make their reunion much more spectacular.
"Spending time apart is so important because I'm here at Mohegan Sun, having a great time with my fans, and having a drink with some of my friends — and Hank is at NASCAR now. What happens, is when we get back together, we have things to talk about. He has some exciting things to share with me, and I have some exciting things to share with him, and that's what makes the relationship exciting."
MORE ON:
Red Carpet Confidential
She adds, "You don't want to do everything together, because then you won't have anything to talk about, because you guys know what each other is doing at all times. Spending time apart is such a must — that is what helps spice the relationship up, and makes things interesting during the dinnertime."
Sounds like she's mastered spicy!
OK! BLOGS: RED CARPET CONFIDENTIAL: ALI LANDRY'S HOT BODY-AFTER-BABY SECRETS!
Article continues below advertisement
Another thing viewers will see on the show is an inside look at Hank's job search.
"Right now, he's officially done with football," she says. "It's official — last season, it was like 'is he still going to get picked up?' It was still a 'maybe' or 'what if.' It was one of those things where it was still up in the air, he could still get picked up, so he wasn't able to really step out and focus on anything, because he still could've gotten picked up. Now it's officially done."
She remains hopeful about his employment prospects.
"He got a 4.0 throughout all of college, and he has his business degree, so now, for this time around, you'll get a chance to see what we're going to do with life after football. What is Hank going to do with life after football? We still don't know! There are things that we're doing, there are things that Hank's doing — he's doing a lot of business moves, and he has big, huge contacts. He's even hosting. He's going to hosting classes, he's been interviewed to host on the OWN network, he's been interviewed to be a huge host on a lot of shows, but we're still getting there, and we're still looking for his gig."
Kendra's on the move: She headed to host Wet Republic at MGM Grand in Las Vegas Saturday before meeting up with Hank at Perez Hilton's birthday bash in California later that night. Busy, busy!
Catch Kendra On Top on WE TV this summer.