NEWS
Red Carpet Confidential: Kyle Richards Hatches Plan To Spare Her 4 Daughters From Heartbreak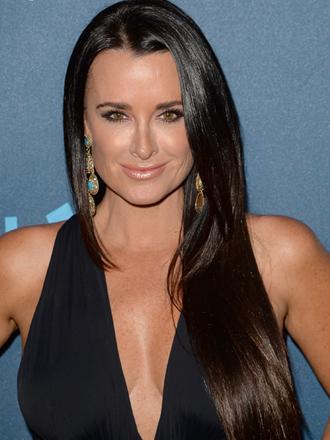 Just because they hail from a famous family doesn't mean Kyle Richards' four daughters are immune from the trials of life.
The twice-wed Real Housewives of Beverly Hills star, 44, is on a mission to help her daughters Farrah, 24, Alexia, 16, Sophia, 13, and Portia, 5, avoid romantic disappointment.
OK! GALLERY: 30+ CELEBRITIES WHO HAVE TWO FIRST NAMES
"You want to make sure that your children don't get hurt and are always happy," Paris Hilton's aunt, who has been married to real estate agent Mauricio Umansky since 1996, tells me this week while promoting the March of Dimes 75th anniversary and imbornto campaign.
Article continues below advertisement
"I think to myself 'oh my gosh, the first time one of my girls has her heart broken, I don't think I can handle it.' Then, I think back to when I was a teenager with my first boyfriend, and seeing my mom so upset, and it looked like she was going to die seeing me upset. I'm thinking 'oh gosh, I cannot deal with that.'"
OK! GALLERY: 10 REALITY STARS WHO HAVE BEEN IN MOVIES
Kyle to the rescue!
"I hope to protect them as much as I can, and give them the tools to avoid as much hurt in their lives as possible, whether it be through a boyfriend, or workwise—it's inevitable, but I'd like to soften the blow for them a little."
OK! GALLERY: RHONJ STAR DINA MANZO LANDS SOAP OPERA GIG! HERE'S A LOOK AT OTHER HOUSEWIVES WITH ACTING JOBS!
Hm, how will she do it?
"I did grow up in a family of all women, so I would see the mistakes that these girls would make, and I'd think 'I'm not doing that when I grow up,'" she says. "It has served me well, growing up in a house filled with women."
She continues, "I see these girls now make so many mistakes when they're dating, whether it's calling a guy before he calls her, or calling too many times. I'm thinking 'oh my God, this is basic information here that some people just don't get.'"
Article continues below advertisement