NEWS
Red Carpet Confidential: NKOTB, 98 Degrees & Boyz II Men Launch The Package Tour—Get The Inside Scoop!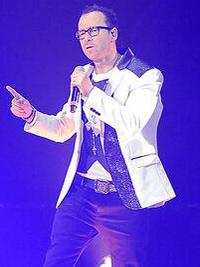 It's a nostalgia hit parade during the launch of New Kids On The Block, 98 Degrees and Boyz II Men's Package Tour, which takes place Tuesday at Mohegan Sun Arena in Uncasville, Conn.
Boyz II Men's Shawn Stockman, Nathan Morris and Wanya Morris roll through '90s single after single, passing out roses during I'll Make Love To You, before 98 Degrees take the stage without missing a beat, gearing up for their first tour in twelve years. While new material is interspersed every other song between '90s and '00s hits like Give Me Just One Night (Una Noche), The Hardest Thing and Because of You, one memorable moment occurs after the group's Nick Lachey, Drew Lachey, Jeff Timmons and Justin Jeffre serenade four women with My Everything.
Article continues below advertisement
OK! GALLERY: SEE PHOTOS OF NEW KIDS ON THE BLOCK, 98 DEGREES, BOYZ II MEN, VANESSA LACHEY, THE JONAS BROTHERS AND MORE IN THE VALERIE GALLERY
"We did shower before the show," Nick yuks as the guys walk them offstage.
According to a source, wife Vanessa Lachey and their eight-month-old son Camden are on hand to congratulate him on a performance well-done.
The screams make it clear who is headlining as NKOTB emerge with full props and pyrotechnics. Donnie Wahlberg, Jordan Knight, Joey McIntyre, Jon Knight and Danny Wood also perform a slew of new material, peppered between '80s and '90s favorites You Got It (The Right Stuff), I'll Be Loving You (Forever), Step By Step, Please Don't Go Girl, a handful of covers and Joey's solo smash Stay The Same.
Article continues below advertisement
Performing with Boyz II Men is a "dream come true" NKOTB's Donnie takes seriously, and he's set to alter his behavior to step up his game.
"Now that Boyz II Men are on tour with us, we can't be f***** losing our voices every night in a nightclub," he says in the wee hours of Wednesday. "We've got to be able to sing now. We've got to conserve our voices."
Donnie gets down and dances to 69 Boyz tune Tootsie Roll as bandmate Danny stays low-key in the VIP section. One thing's for sure: Donnie loves the fans as he snaps photos with them.
Boyz II Men's Shawn returns the praise during the afterparty.
"Last night, this guy Donnie was working so hard, he slept in the dressing room," he says, before he takes a break to dance with the ladies who are eager for his attention. "This guy has been the mad scientist! Everything you saw tonight comes from him."
OK! GALLERY: CELEBS TELL OK! THEIR CELEBRITY CRUSHES FROM WHEN THEY WERE TEENS
Of course, the respect is mutual.
Article continues below advertisement
Boyz II Men took a break from their Las Vegas residency to take up with NKOTB and 98 Degrees on The Package Tour this summer.
"They're cool fellas," Shawn tells me in Ultra 88's Landsdowne room. "We have a mutual respect. it's a great thing to be on tour with a group of guys with no ego, no guile. It makes the experience great."
OK! GALLERY: OK! QUICK PICS: NICK LACHEY SIGNS AUTOGRAPHS
Hm, any pranks yet?
"Not yet," Shawn says. "We might get some inspiration to do something, depending on the circumstance. That's the cool thing about touring, and going out with these types of guys and being put in those types of scenarios—things pop up, and you get the inspiration to do something crazy."
So far, the guys bonded earlier this year in NYC.
"We got the chance to see the personalities, they got to check our personalities and nobody frowned down upon the idiosyncrasies," Wanya tells me. "It was real dudes hanging out and being real dudes. The bonding is going to progress as time goes on, but right now, everybody's cool."
Article continues below advertisement
OK! GALLERY: OK! QUICK PICS: NICK LACHEY STRIKES A POSE
It's time to call it a wrap at 1 a.m.
"You guys were the first ones to see The Package Tour," Donnie says. "We're just getting warmed up. We love you guys. Let's have a great summer together!"
With that, 98 Degrees singer Jeff sends me a message inviting me backstage next time. Can't wait!
The Package Tour runs through August 4. Visit Mohegan Sun in Uncasville, Conn., for more upcoming concerts and special events.
Will you see The Package Tour? Which group is your favorite—New Kids On The Block, 98 Degrees or Boyz II Men? Tweet us @okmagazine.