NEWS
Red Carpet Confidential: Sara Evans Hopes For Anniversary Baby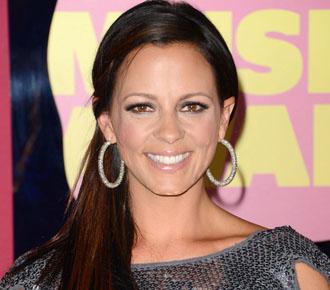 Sara Evans and husband Jay Barker are ready to add another baby to their brood — even though they already have seven kids between them.
"We talk about that a lot," the country singer, 41, tells me on their fourth anniversary this week while getting ready to jet to the NBA Finals at Chesapeake Energy Arena in Oklahoma City. "We would actually love to. I don't have a ton of time to be sitting around considering it laughs, but we would love to – yes. That would be a blessing. Our kids beg us to all the time, but we keep putting it off. We'll see. That's definitely something we talk about."
Article continues below advertisement
OK! BLOGS: RED CARPET CONFIDENTIAL: KELLIE PICKLER NOT READY FOR KIDS — YET
The couple is more in love than ever.
"Jay is just perfect in every way," she says of her athlete-turned-radio host hubby. "Seriously, he's the perfect combination of all of the things that I wanted in a man. He's the exact right of tough and manly, and the exact right of sweet and the exact right of romantic, and he's not extreme in any one of those areas."
She continues, "He's incredibly smart, he's very motivated. He's been so driven since he was a child, being an athlete and succeeding the way that he did in sports. He's always looking for something new to do, some new way to challenge himself. He's an incredible father, the best husband in the world — my best friend — and we have a great time together. We're like a female and male version of each other."
Article continues below advertisement
OK! BLOGS: RED CARPET CONFIDENTIAL: SAMANTHA HARRIS MAY ADD A BOY TO HER BROOD
Even though her kids Avery, 11, Olivia, 9, and Audrey, 7 (whose dad is ex Craig Schelske) have to share their mom with his four children, it's a seamless process.
"We got together when the kids were so little, and they don't really remember much before Jay and I were together. They have this really neat bond."
It's a busy summer: Not only did the Born To Fly singer perform the National Anthem for the NBA final match between the Miami Heat and the Oaklahoma City Thunder last week, she has tour dates booked through August.
"It's hard, and my kids are very used to it," she says. "It's seldom that all seven kids go out with us, but my kids usually do a lot. We've been doing it for so long that I could pack with my eyes closed laughs. And then I have a stylist that takes care of everything I need for the stage, so when I go, I'm really only packing for whatever I want – casual stuff, and stuff for the kids. It's fun. We love being on the road."